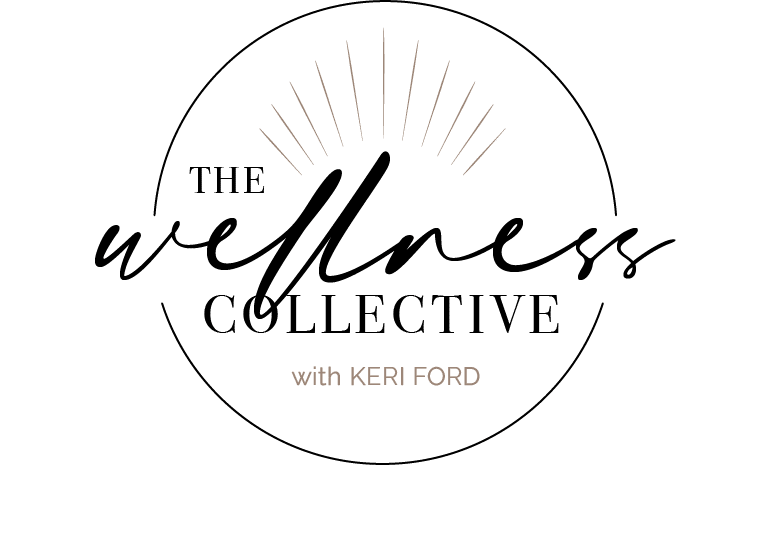 Lose the
emotional weight.
Welcome to The Wellness Collective, a live coaching program for women who want to achieve peace with food, increase body confidence, and transform their health.
The program that helps you learn intuitive eating so that you can stop 

sabotaging your health.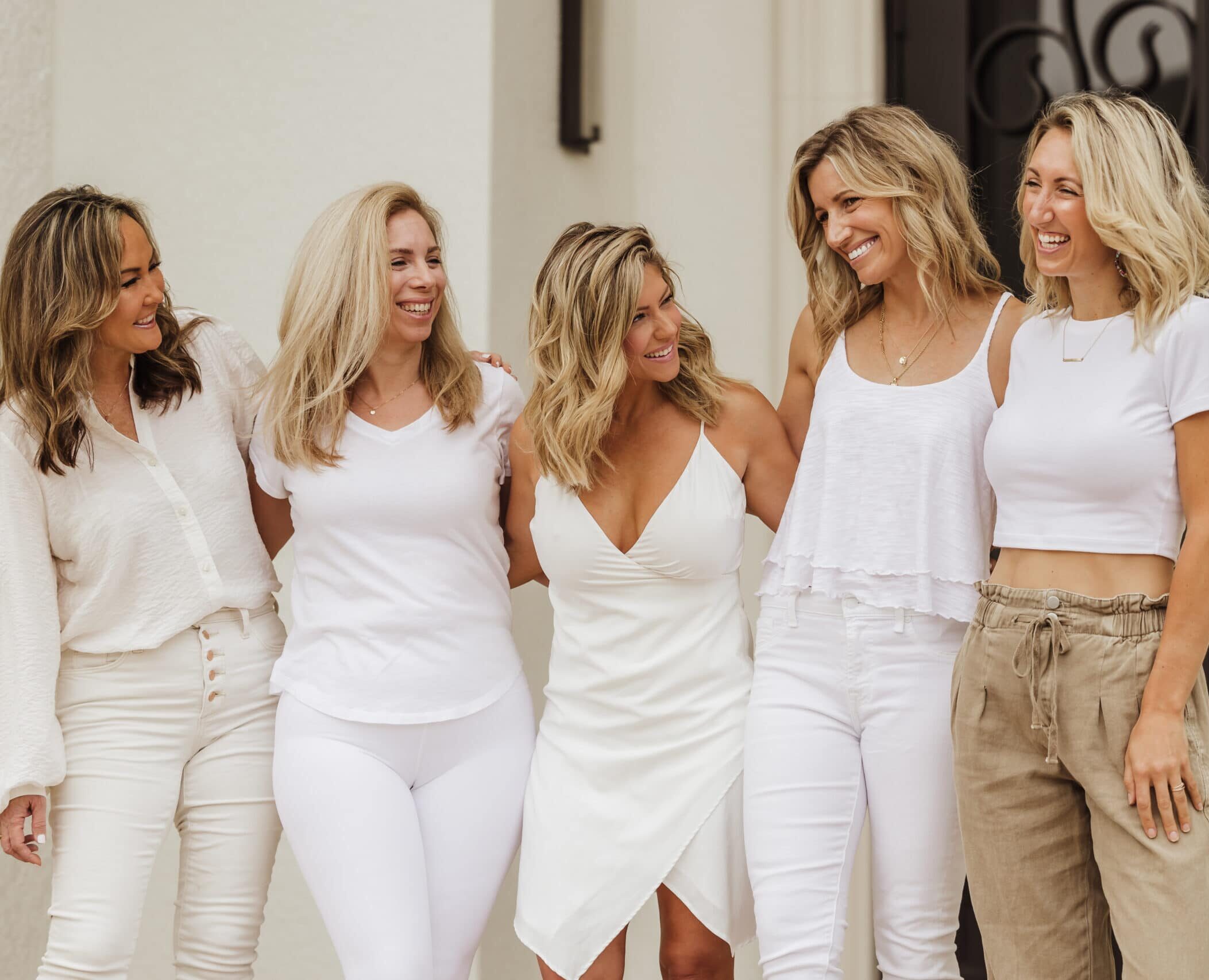 Your refusal to eat the cookie is the reason you haven't lost the weight.
Why? Because the #1 response to diet deprivation is binging on the food you think you can't have – meaning you likely only want the cookie because you created a rule about not eating one.
This is what Founder, Keri Ford, calls the Emotional Currency™ of food – the moment in time, the inception, of how food gains power over our emotions. And if we're not deeply aware, our actions keep us stuck in cycles of self-sabotage.
After enduring an eating disorder post-college, miscarriage after fitness competitions, and gaining back the same 20 pounds over and over again, Keri was driven to liberate women from the inner hell she experienced around food and her body.
The thing is… 95% of all diets will fail.
But it's not your fault.
Meet Your Wellness Collective Team!
I'm the founder of The Wellness Collective and this unique approach to self-healing. Embodiment practices and the unlearning of diet culture has been the gateway to my own personal transformation by harnessing my intuition to create success in every area of my life.
The development of my processes such as Food Mapping™ and BodySpeake™ Biohacking have been called "revolutionary" and "brilliant". In addition, I have been awarded by the International Forum on Advancements in Healthcare (IFAH) as a Top 100 Global Visionary in Wellness for Alternative Medicine.
My professional application and teaching of my methods has proved WHAT ACTUALLY WORKS for long-term results, loved-based motivation and nourishment from a cellular level.
For more than 12 years I have coached hundreds of women, and have trained celebrities such as Ali Sweeney, from NBC's The Biggest Loser, Jennifer Love Hewitt, and Kaley Cuoco, from the Big Bang Theory.
– Keri
ACE Certified Nutritionist (CN), Lifestyle & Weight Management Coach, ACE Certified Personal Trainer (CPT), Behavior Change Specialist, Facilitator of Jillian Michaels' Bootcamps & previous Flywheel Instructor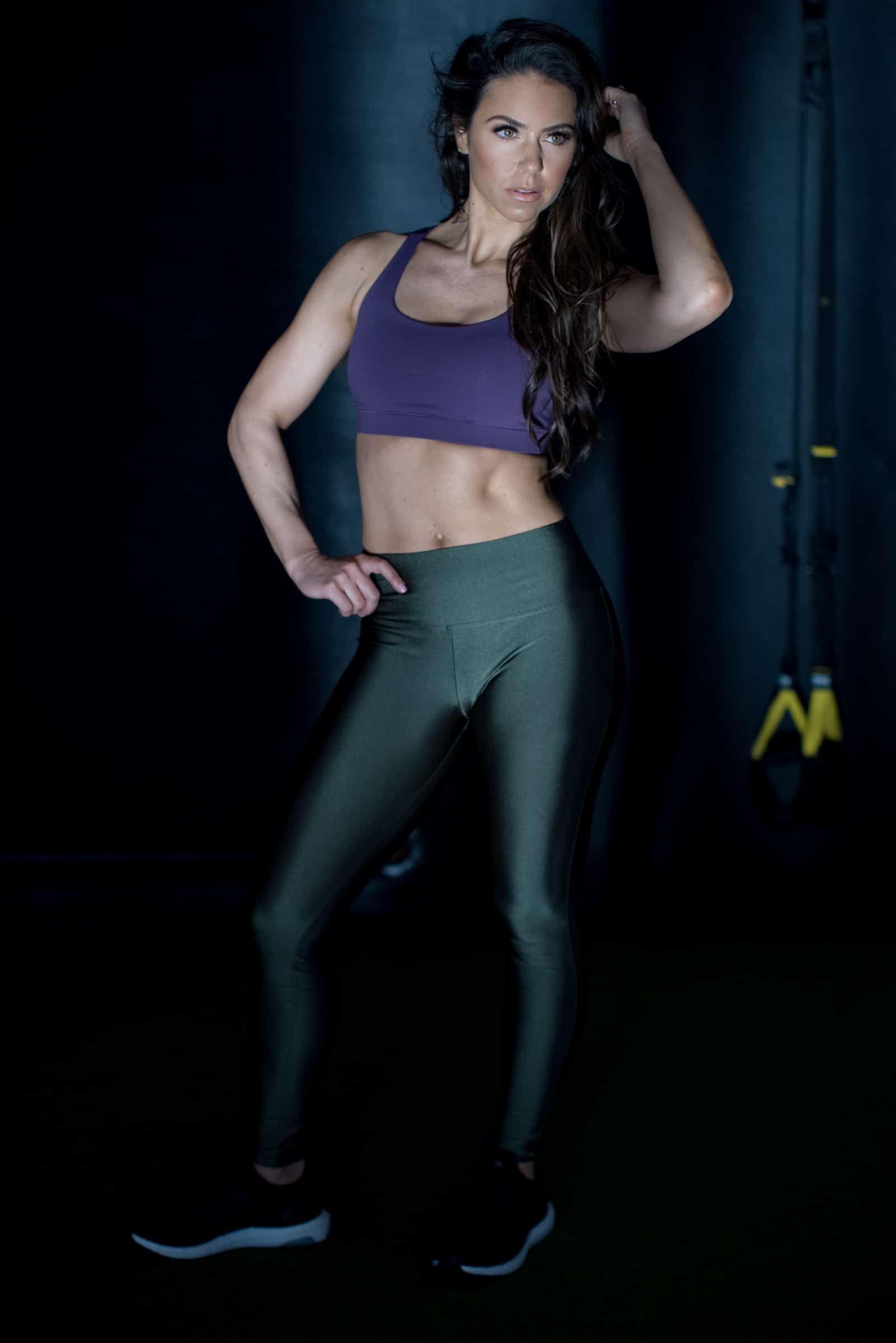 You'll be seeing a lot more of me here, because I'm happy to announce that I am the new owner of The Wellness Collective!
I've been in the fitness industry for more than 16 years. Maybe you even recognize me from Oxygen Mag or Strong Fitness Magazine as one of their leading online trainers.
You will also see me inside The Wellness Collective, where I designed custom, progressive workouts we get to do together over the next 6 months.
From sleep and nutrition to movement and a positive mindset, fitness is a lifestyle.
As an ISSA and NCSA Certified Personal Trainer as well as an Institute for Integrative Nutrition Health Coach, my mission is to help women gain their confidence back and build a community so they can surround themselves with a culture of like-minded people. 
– Krista
ISSA & NCSA Certified Personal Trainer (PT), Institute for Integrative Nutrition Health Coach (IIN), & Owner of FitBody by Krista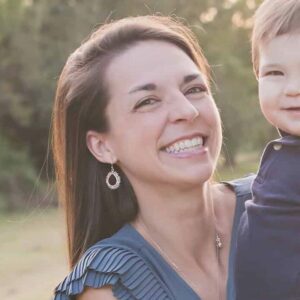 Dana Wallace, Registered Dietitian
Dana's gift is the ability to make your nutrition easy to understand and find alignment on your plate and beyond. As a busy Airforce wife and a mom, she encourages a flexible approach to nutrition and a positive mindset.
Dana has been a Registered Dietitian for the last 13 years, and has helped hundreds of clients just like you fuel their bodies with food that makes them feel great, live a happier life, and achieve the results they desire.
Dana's style of coaching is rooted in the practice of teaching, not just telling, and she specializes in highly specific nutrition counseling.
Dana is a weekly LIVE coach inside the program and she teaches using both the self-study portion and the book, Intuitive Eating.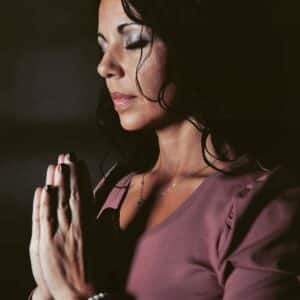 Amanda Marie, Master Coach
Amanda is the Master Coach for The Wellness Collective and is based out of Ontario, Canada. Amanda's coaching style creates a warm, safe space for you to share, while transforming limiting beliefs that could be keeping you stuck in cycles of self-sabotage.
She specializes in unlocking deeper levels of women's emotional freedom. Amanda has also studied energy medicine and has trained to use this modality to help women access their power and intuition.
Amanda is a weekly LIVE coach inside the program and she coaches around the mind set and behavioral patterns.
they've been lying to us…
The diet industry has been designed to make you feel like a big, fat failure.
It is a $72 Billion Dollar Industry built on pushing diet products and platforms, not paradigm-shifts or plateau-breakthroughs.
The short version?
They profit from your failure.
And that's why when you say "nothing works" – you're right.
Because…
It's NOT a downloadable diet that's going to fix things.
It's NOT another new, color-coded planner with all the compartments.
It's NOT that you don't believe that having it all is possible.
It's NOT that you won't put the work in.
It's NOT that you don't have willpower.
What I realized hundreds of women that came to us were actually doing:
Eating or avoiding their feelings
Finding themselves hungry for happiness
…and if we're being honest – us too
 We know that "before & after pictures" only show part of the story (which is why we don't share many of those from clients – we have hundreds).
But we get it. And that's why it felt important for you to see Keri's: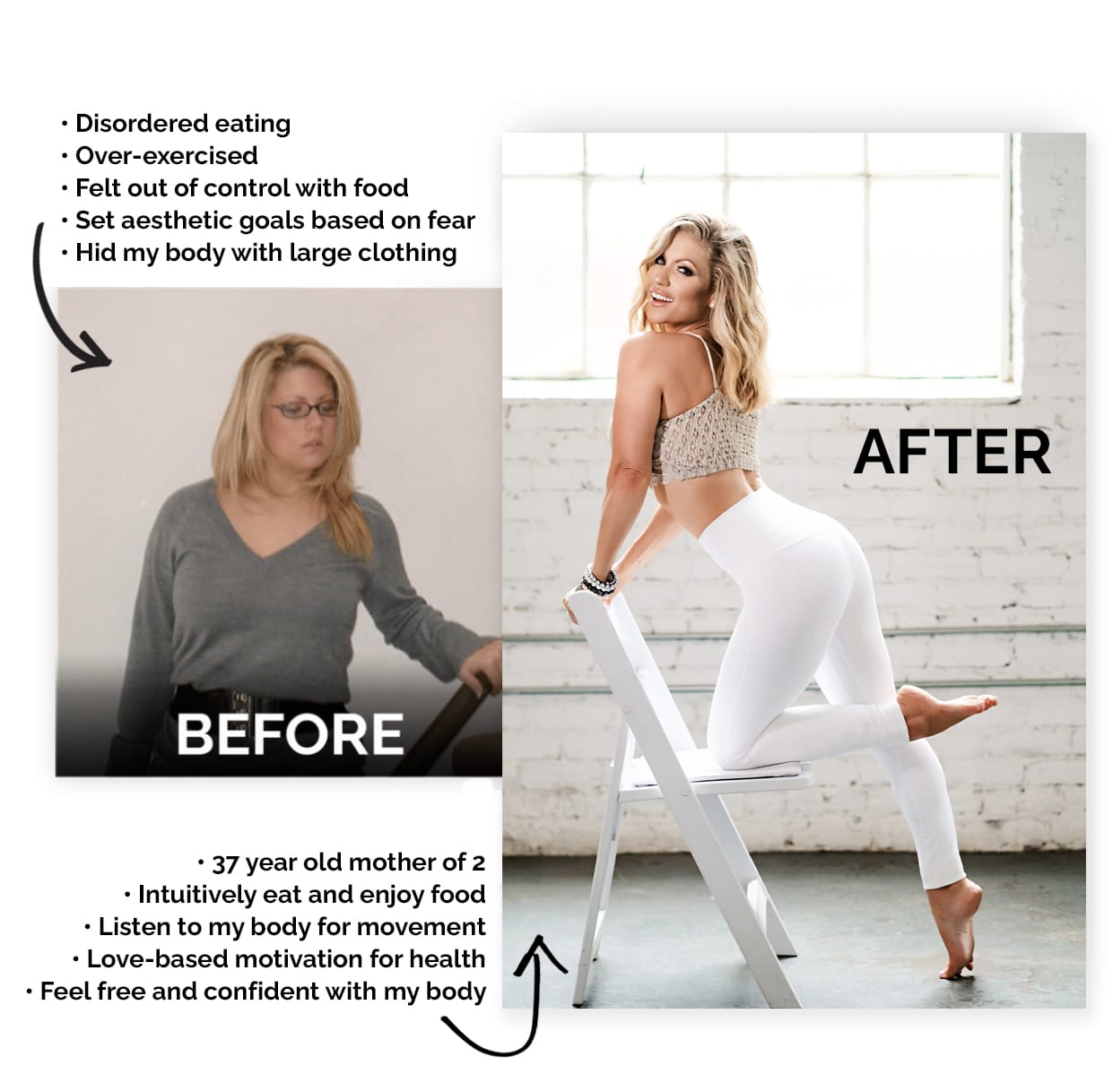 "I felt like the outside didn't match the inside."
My physical body, unsurprisingly, looked exactly like I felt in my emotional body.
I was sad, 
tired

, and hopeless.
It seemed like I was trapped in my body.
Stuck in an endless cycle of gaining and losing the same 20 pounds.
The most frustrating part was that I didn't struggle with motivation.
I struggled with the idea that as a smart and successful woman, the outside didn't feel like it matched the inside.
And I couldn't seem to "outwork it" or "figure it out."
That is when we discovered what you are really seeking are:
Tangible self-healing techniques & tools so you can finally love your body
Deeper awareness so you can recover from disordered eating cycles
Professional coaches that specialize in teaching you HOW to reprogram your self-sabotaging behaviors so you can transform them into healthy habits ⠀
Learning the difference between an emotional and physical craving
A program that nurtures your feminine intuition so you can reclaim your power over food
Support from other women that understand your food and body image struggles
Because

the secret

is… that you don't need to diet ever again.
In fact, your body knows EXACTLY what to do.

Here is what the program will teach you:
Intuitive eating is food freedom
Radical self-love is your revolution
Awareness over obedience is allowed and encouraged
Motivation has never been the issue.
In fact, women like us are:
Incredibly motivated and driven
Wildly Intelligent and independent
Successful in most areas of our lives
The issue is that diets taught us to follow someone else's rules using shame and self-disgust as motivation…
But what we didn't learn was how to listen to OUR own individual body.
The issue is that d

iets taught us to follow someone else's rules using shame and self-disgust as motivation…
But what we didn't learn was how to listen to OUR own individual body.
☑ Could be around foods that previously triggered you without feeling out of control

☑ Could confidently wear the outfits you actually wanted to right now

☑ Had an understanding of your self-sabotage patterns

☑ Had a team of wellness professionals that have healed through the same struggles as you

☑ Felt healthy, energized and powerful in your body

☑ Never had to give up foods you love

☑ Actually wanted to workout because it's fun and feels good

☑ Never felt overwhelmed by restrictive diet plans ever again

☑ Figured out root causes of food sensitivities & other physical manifestations of trapped emotions

☑ Learned how to listen to your intuition and watched your life become more joyful as a result

☑ Could eat without worrying about counting points, calories, macros or following bs rules

☑ Could feel sexy and love your past and present body

☑ Learned how to use self-healing techniques to help you finally find peace
If you're like… "YES, I'M IN!!!" then you are in the right place, and we have the perfect solution for you.
The solution is found in The Wellness Collective.
The 6-month program focused on transforming your mind & your body so you can learn how to master your intuition.
What's Included Inside The Program: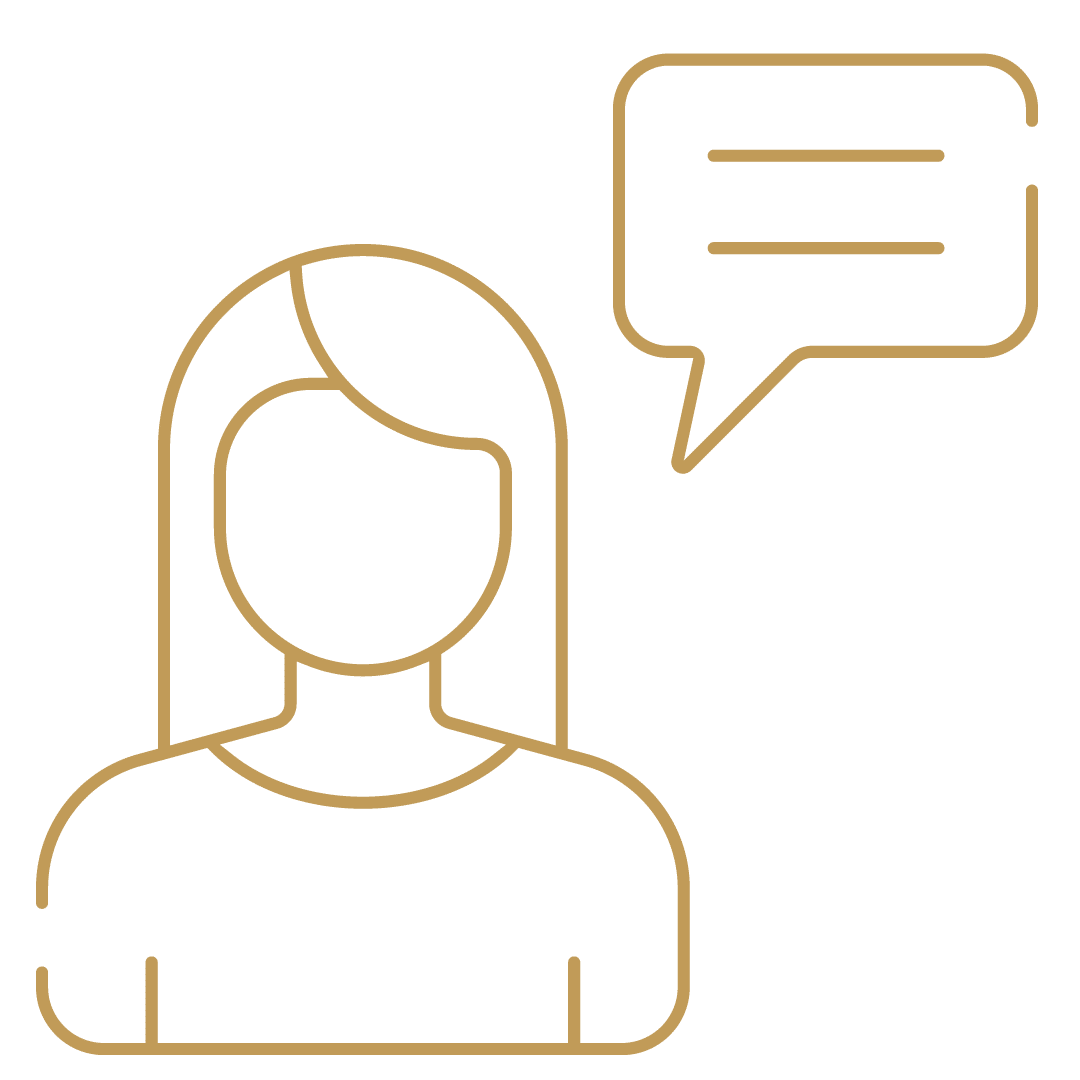 Live Coaching
Receive weekly support with your frustrations with weight, food and your body on LIVE coaching calls with our wellness team. You will also have the opportunity to be on a monthly call with Krista Ferrara, Oxygen Fitness Trainer and Wellness Expert!
All calls are recorded and available for replay during the program.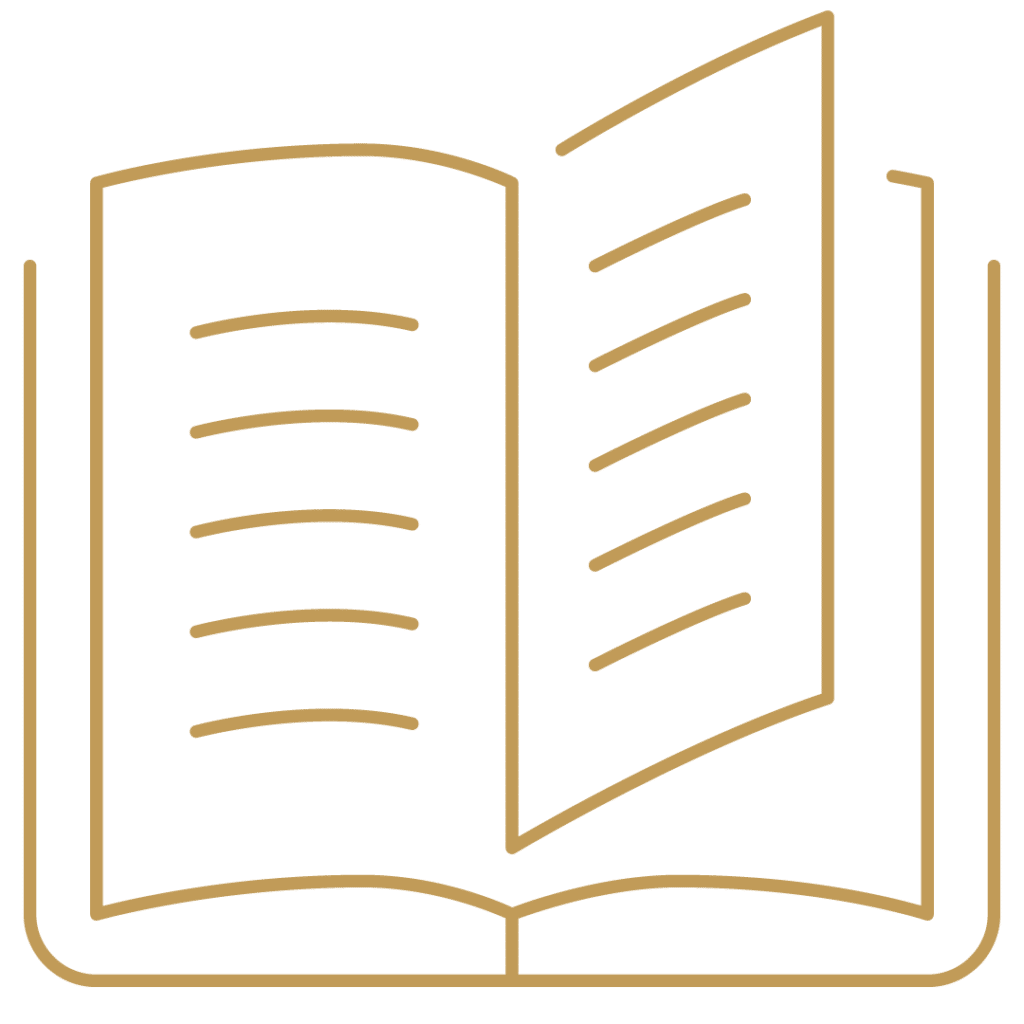 Member Platforms
Log in anytime and access your member portal loaded with more than 48 hours of recorded coaching calls, 24 training modules complete with videos, meditations and deep dive work with program founder, Keri Ford, daily healthy habits checklists and 75+ pages of Wellness Workbook materials.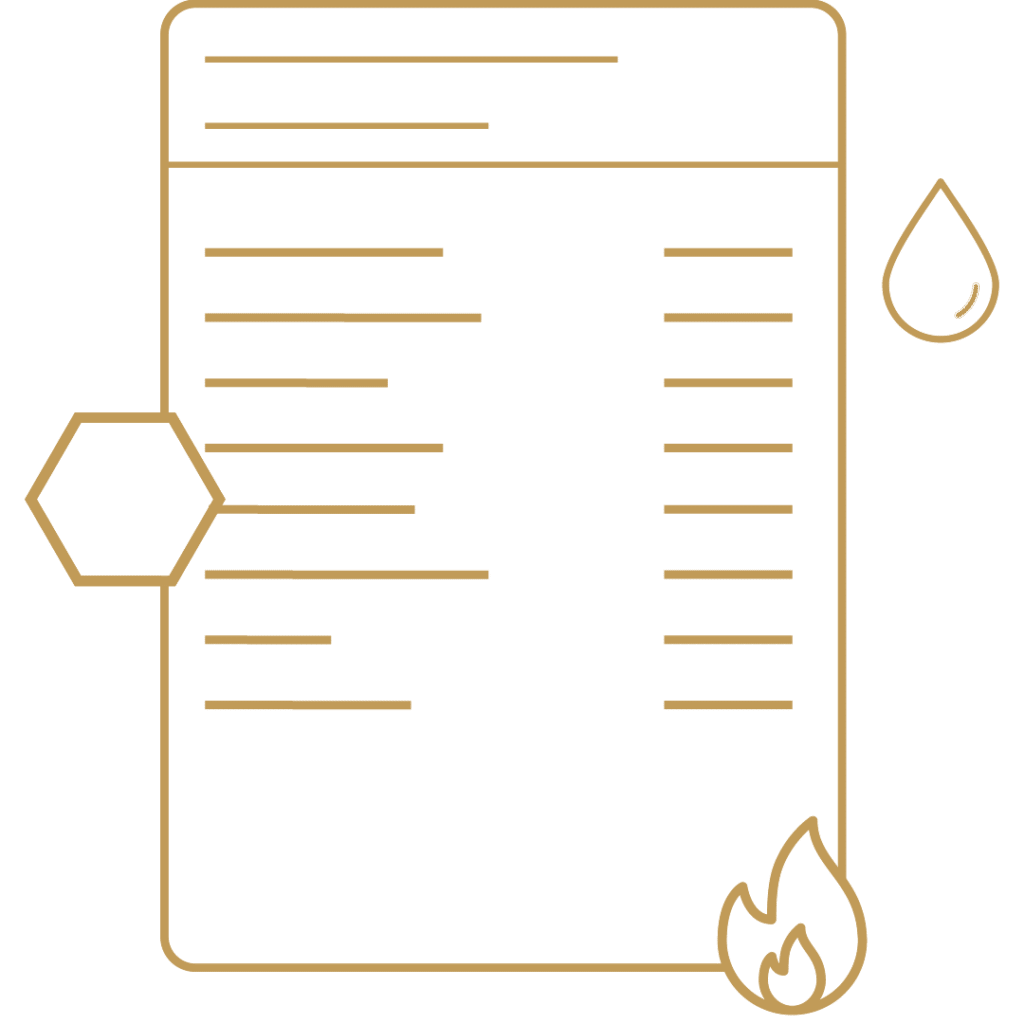 Wellness Workbook
You have access to our 75+ page Wellness Workbook that takes you through 24 different journal exercises to help you understand how to heal your relationship with food and your body. Co-created by in-house Registered Dietitian, Dana Wallace, this workbook also contains educational worksheets about macronutrients, portion control information, and solutions for what to do when you're still hungry. 

Self-Healing Tools
Start your transformation by completing our extensive Alignment Assessment Process™ through a series of over 60 questions.
Learn Keri's powerful BodySpeake™ Biohacking to rebuild self-trust, intuitive guidance and transform yourself from the inside out using Conscious Cellular Connection™. In addition, Keri's Food Mapping™ Method allows you to create a blueprint so you know exactly how to heal your relationship with food.

Community Support
The private and exclusive community on Facebook is for members only. Ask questions to Keri and your team of wellness coaches, receive real-time feedback, and celebrate your daily successes! Watch others receive coaching and experience the benefit of being supported with a group of women who are working through the same struggles so you can maximize your results during the program.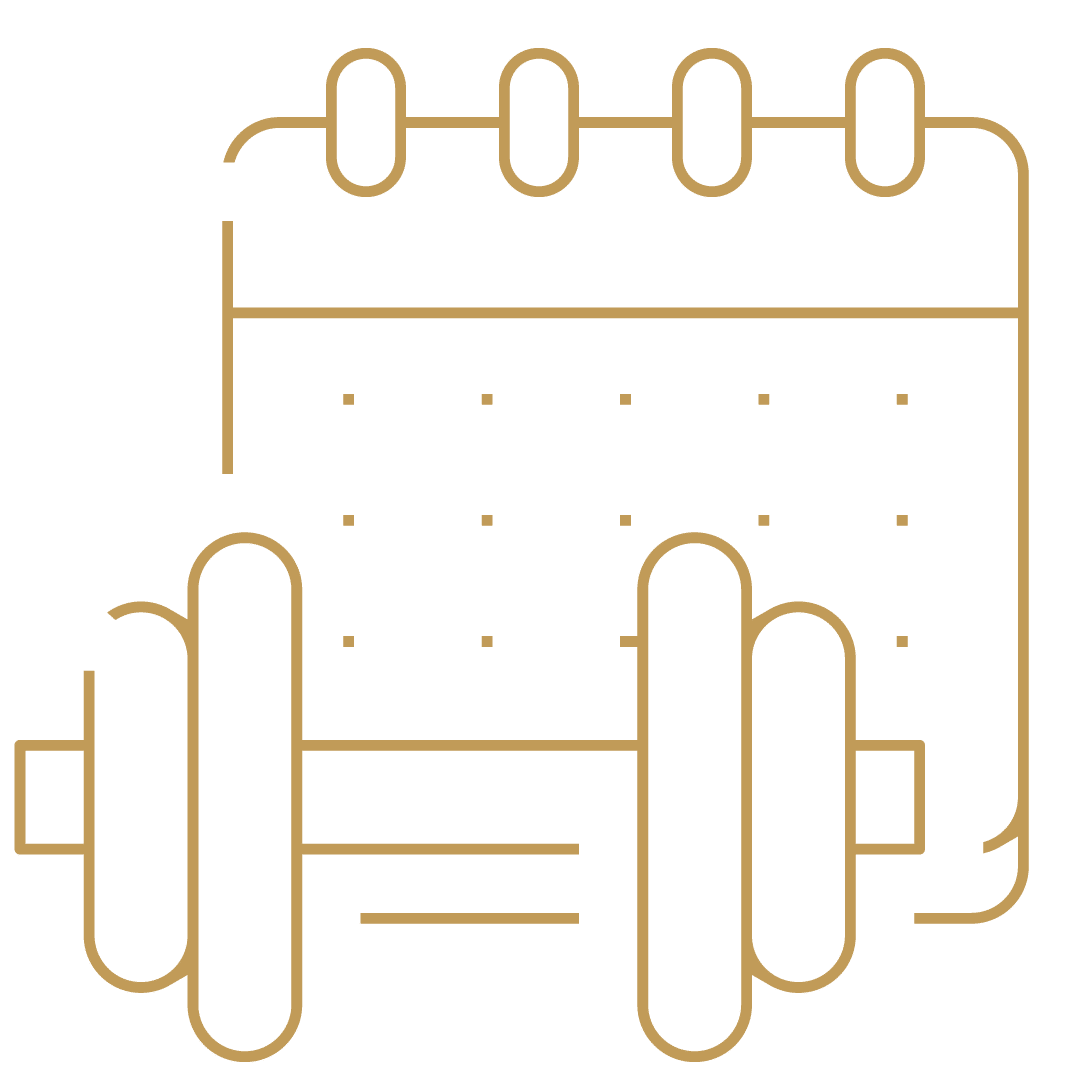 Workout Programming
For convenient workouts wherever you go, access your training schedule in a downloadable app that helps you to establish a consistent and committed exercise practice. These progressive metabolic workouts have been exclusively designed for the program by Oxygen Fitness Trainer and Expert, Krista Ferrara, and are both fun and time-efficient. 
Inside The Wellness Collective You Will Learn:
Phase 1: Expansion (Weeks 1-8)
During this phase we identify what is not working in order to step into the future version of yourself.
The wellness team, comprised of Founder, Keri Ford, Registered Dietition, Dana Wallace and Master Coach, Amanda Marie, will help you explore and bring awareness to your limiting beliefs, behavioral patterns and emotional body so that your nervous system allows you to expand in a new direction without struggle and self-sabotage.
✓ Complete the Alignment Assessment Process™
✓ Access and watch training videos and meditations in your Member Portal

✓ Join LIVE Weekly Coaching sessions with the wellness team
✓ Receive Community Support in the FB group
✓ Learn Self-Healing Tools to use for intuitive mastery
✓ Receive your 75+ page Wellness Workbook from Keri's Registered Dietitian
✓ Execute phase one of your Workout Programming
Phase 2: Evolution (Weeks 9-16)
In this phase we shift your identity from old beliefs to the next level version of yourself through breakthrough, claiming your power and owning your confidence.
✓ Complete Keri's powerful BodySpeake™ Biohacking & Food Mapping™ Method
✓ Watch training videos and mediations in your Member Portal
✓ Join LIVE Weekly Coaching sessions with the wellness team
✓ Receive Community Support in the FB group
✓ Learn how to establish a strong foundation for consistent healthy habits
✓ Work through your 75+ page Wellness Workbook with Keri's Registered Dietitian
✓ Execute phase two of your Workout Programming
Phase 3: Embodiment (Weeks 17-24)
In our final 8 week phase, is where we create momentum and sustainability. You will practive intuitive mastery and experience both internal and external results. You will also feel freedom with your body, food and movement.
✓ Watch training videos and meditations in your Member Portal

✓ Join LIVE Weekly Coaching sessions with the wellness team
✓ Receive Community Support in the FB group
✓ Understand and create conscious change around previous self-sabotage
✓ Complete your 75+ page Wellness Workbook from Keri's Registered Dietitian
✓ Execute phase three of your Workout Programming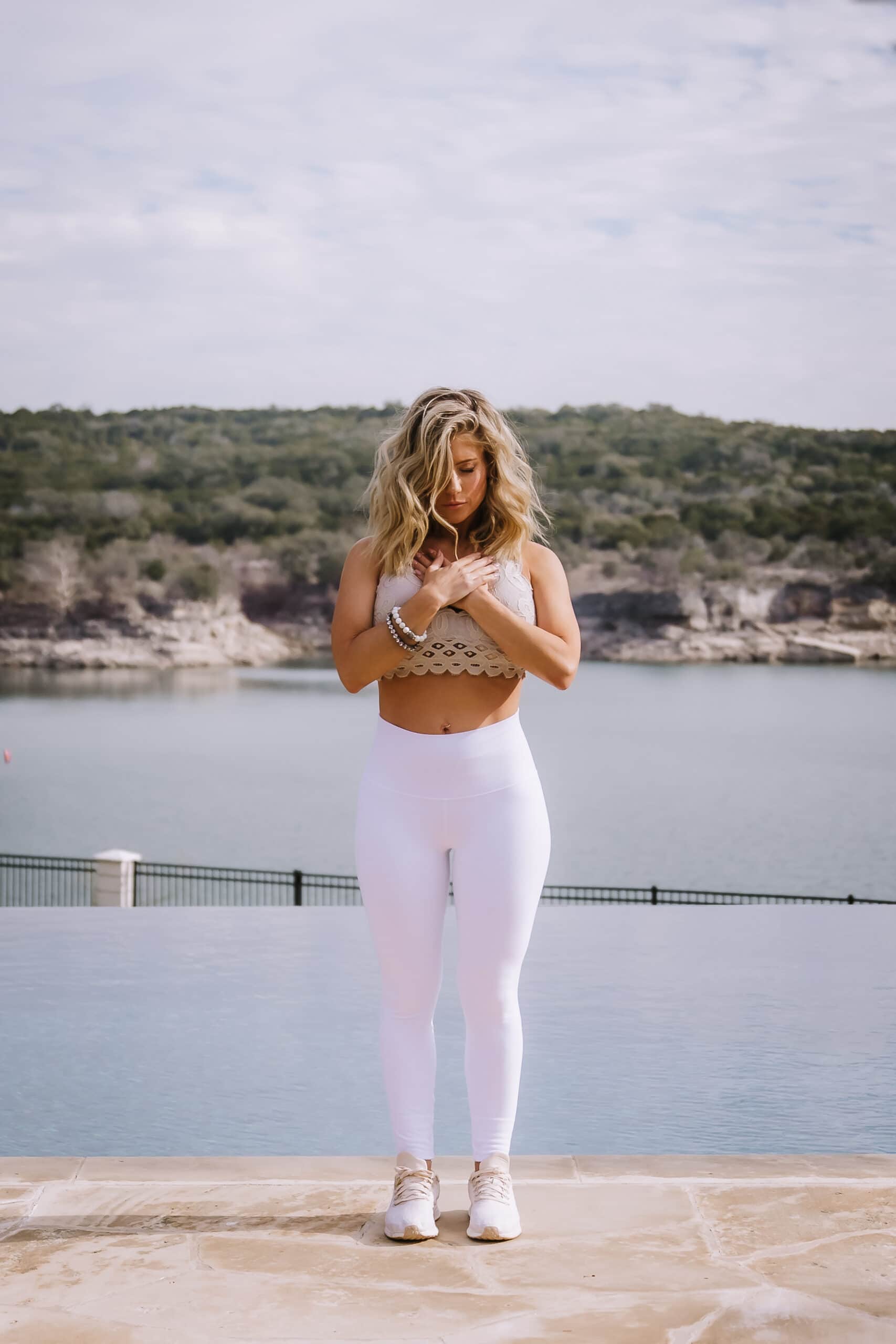 You feel confused about food, and want an easier way.
You are stressed, lacking energy and it is taking a toll on your body and ability to be confident in yourself.
You are a chronic dieter that learned to restrict at a young age, and as a result don't trust yourself with food.
You feel out of control with food and constantly seek the next diet or plan.
You purposely hide your body behind someone else in pictures or avoid being on camera altogether.
You struggle with understanding your food cravings and knowing if you are hungry or not.
You are constantly anxious about what you should or shouldn't be eating.
You secretly wish you could be as free and confident as "those other women".
You are not fully showing up in the way you envisioned you would at this point in your life and it's affecting your health, wealth, and even, your relationships.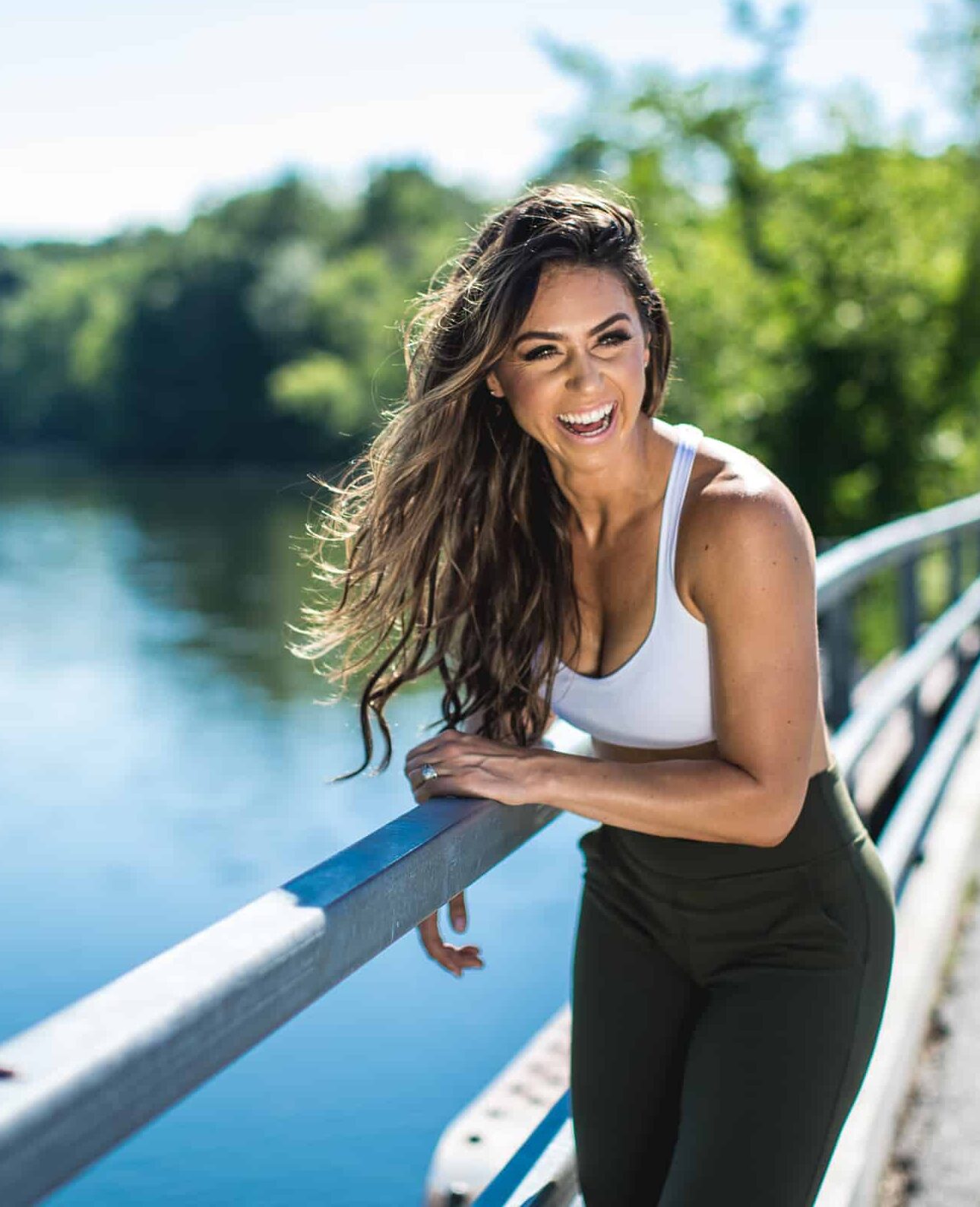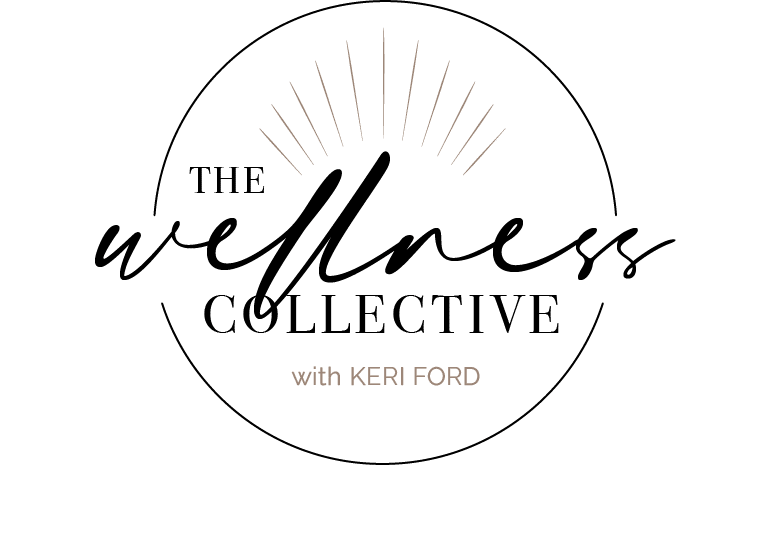 See What Clients Are Saying: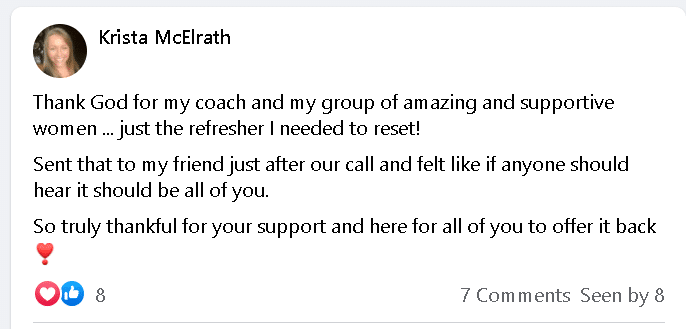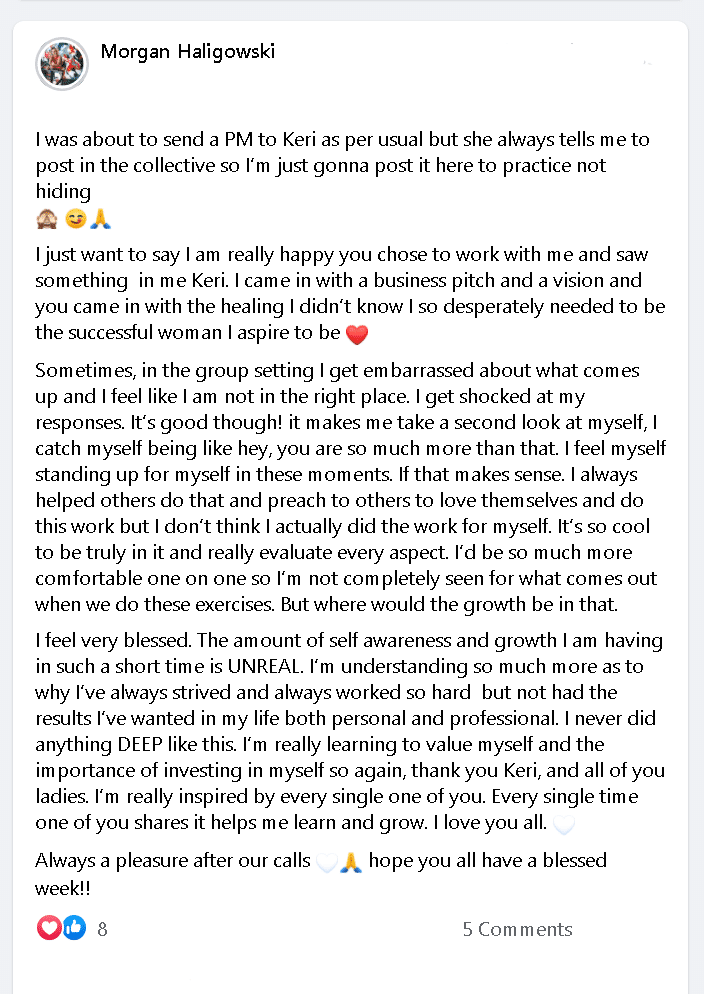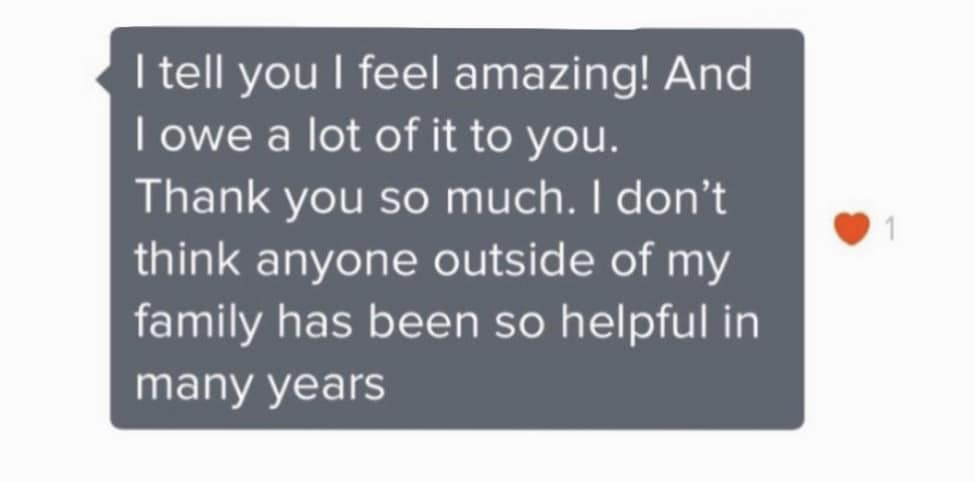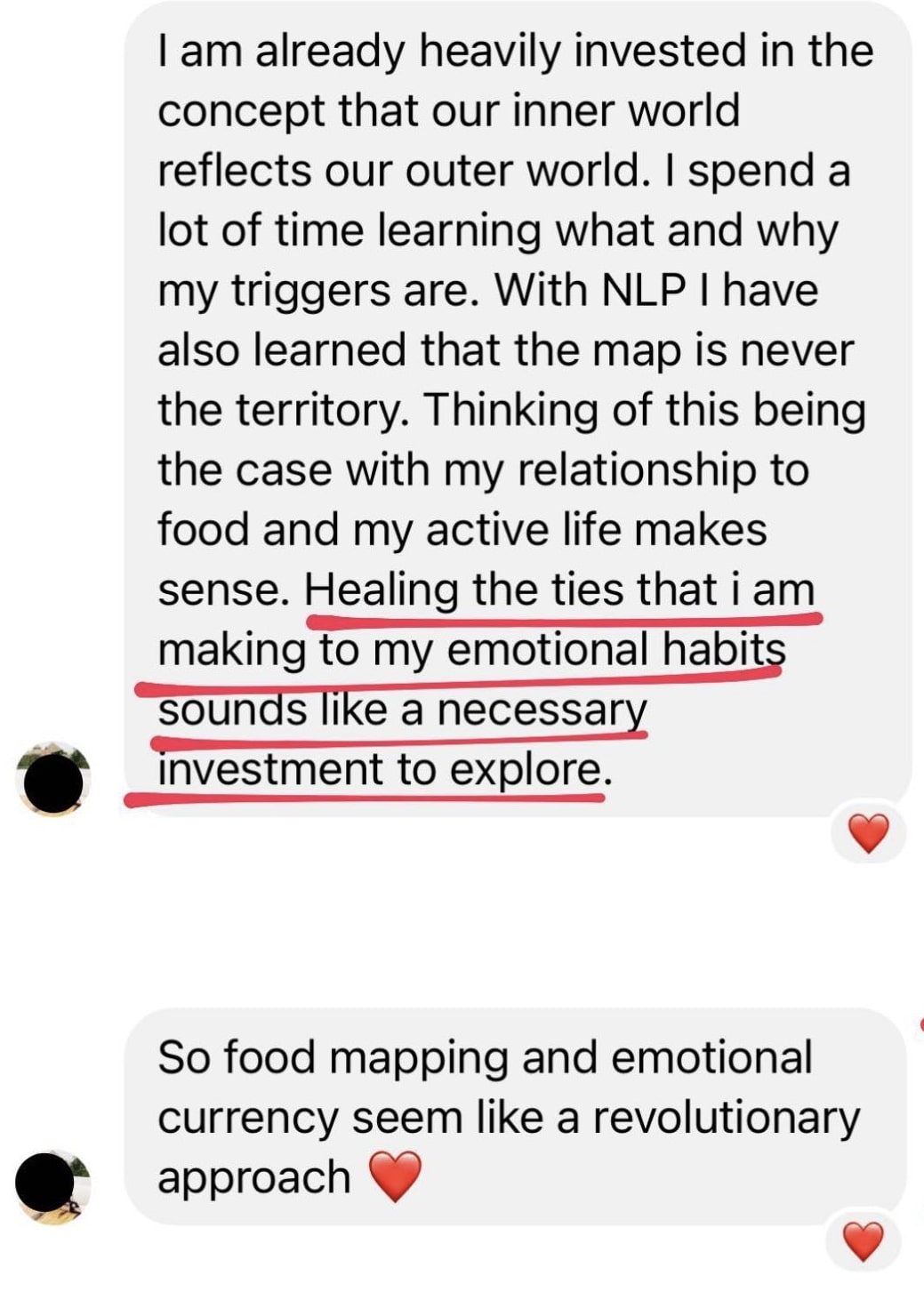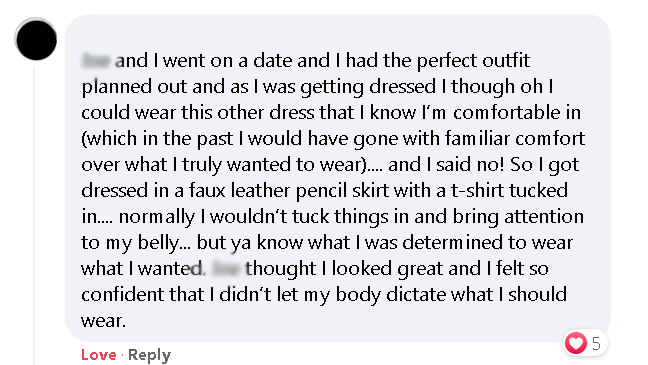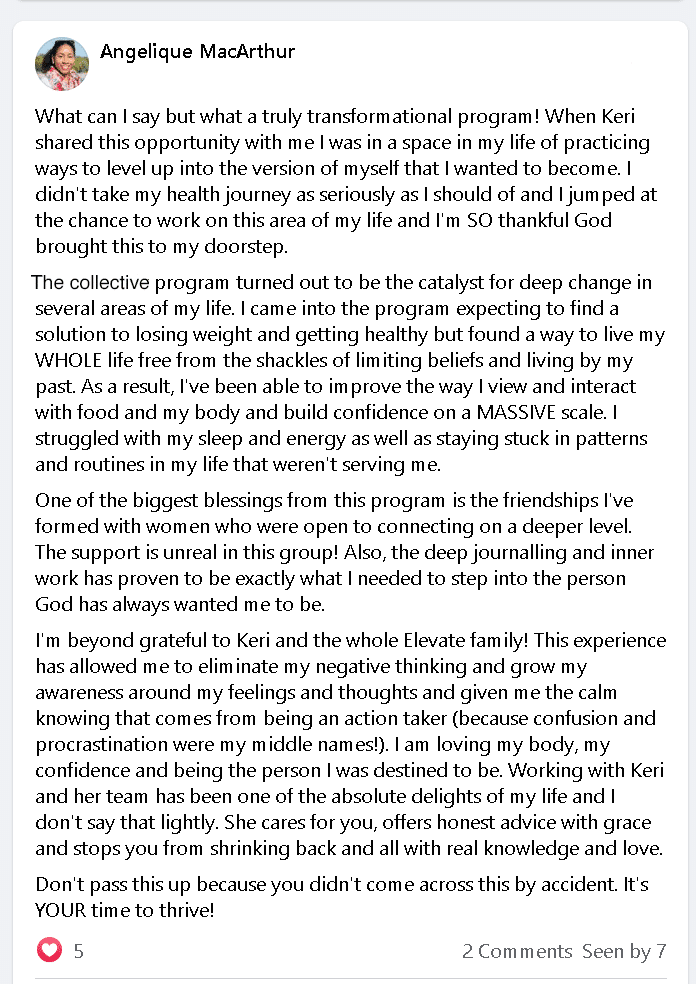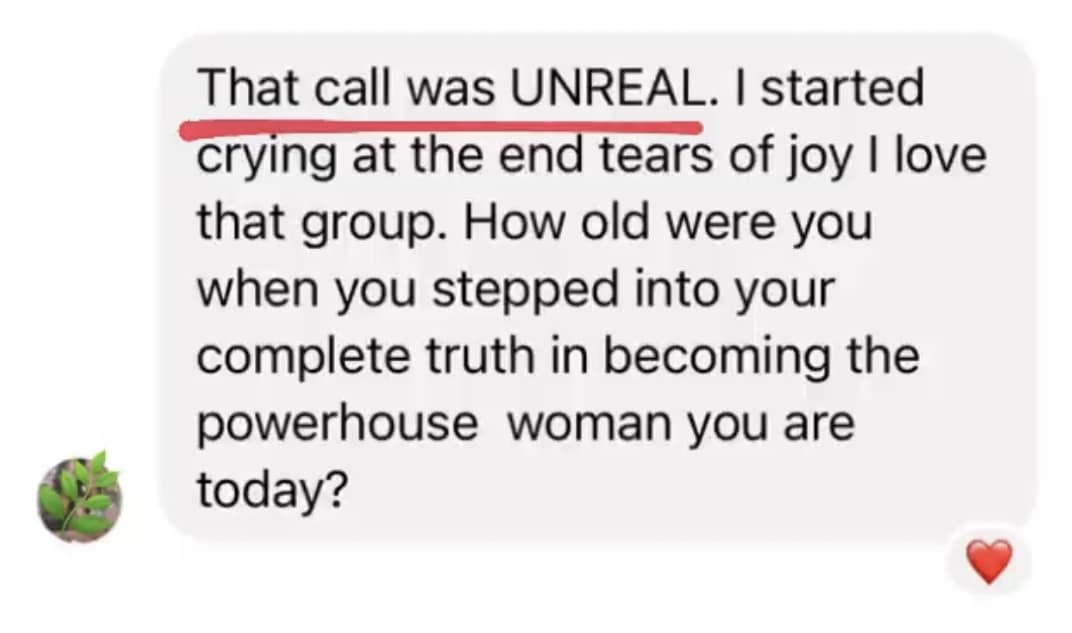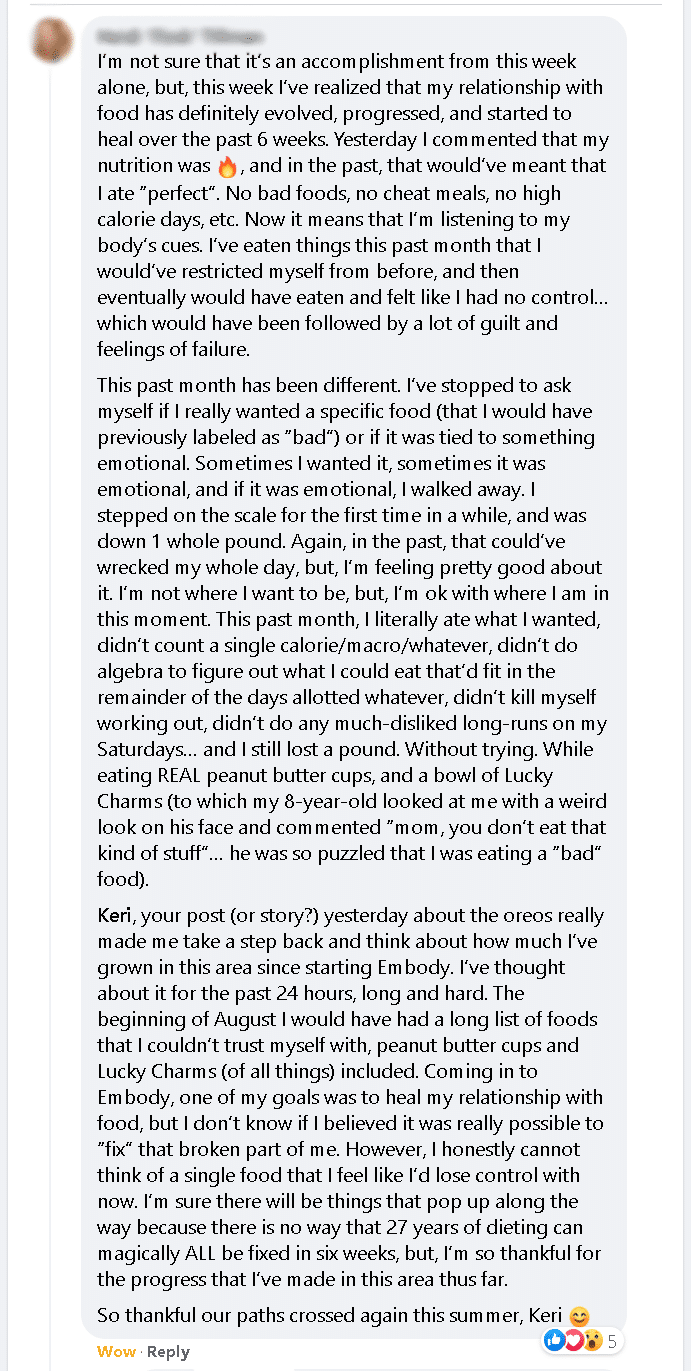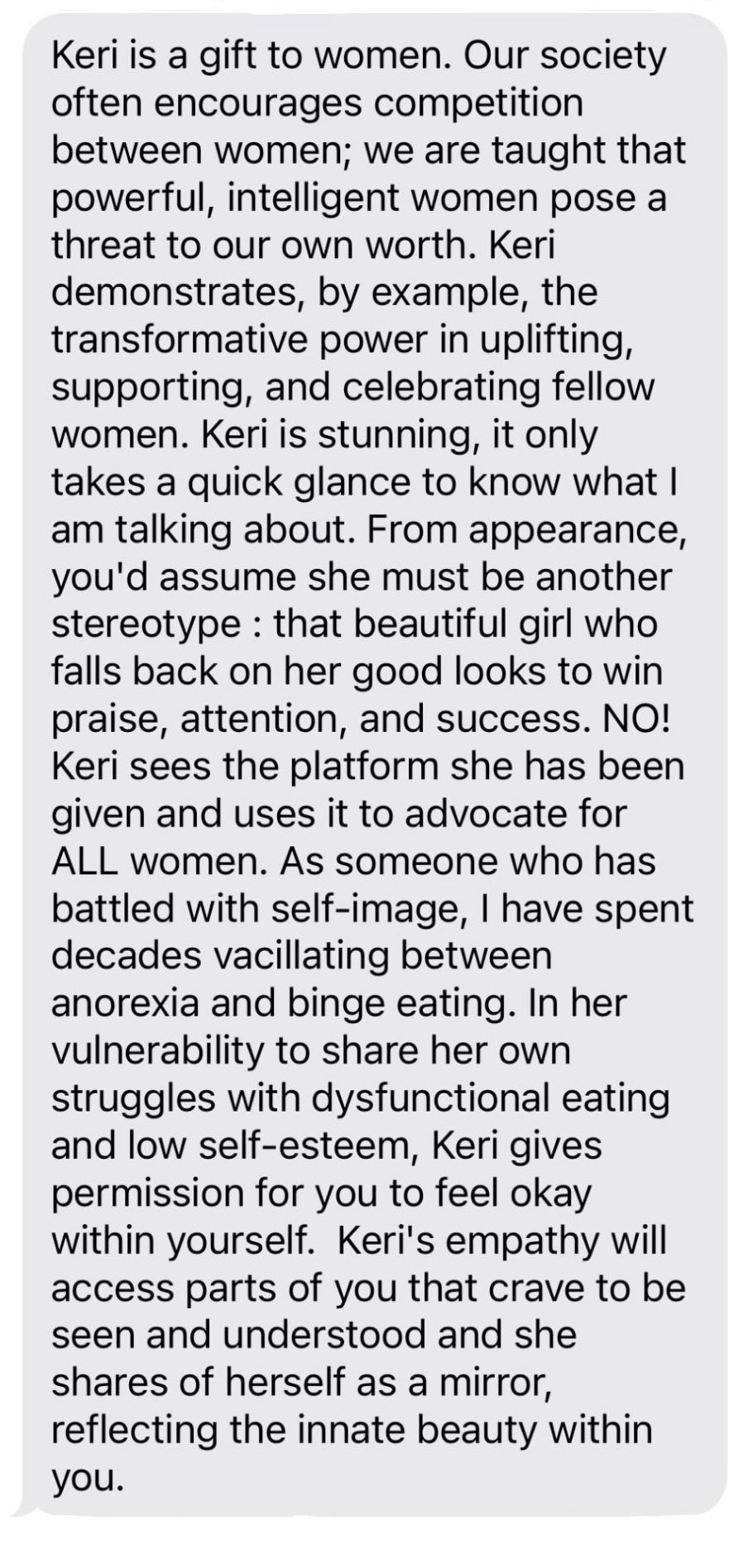 What is Intuitive Eating?
Intuitive Eating is a non-dieting approach to changing your eating habits. According to the National Eating Disorders Association, "Intuitive Eating is about trusting your body to make food choices that feel good for you, without judging yourself or the influence of diet culture."
Do you follow and recommend any one diet to your clients?
Every BODY is different. We work with clients to find the specific foods that make them feel their best, but our in-house Registered Dietition does not create diets in this program. We truly believe that your body knows when it is hungry, when it is full and we will help you learn how to listen and love it again.
How much time should I plan to commit to the program?
We will help you eastablish healthy habits and create an efficient schedule that allows you to prioritize your health without wasting your time.
The self-paced study portion of the program will take 1-2 hours weekly, while the live coaching component will require you to be fully present for two 1-hour calls weekly. You will receive your call schedule upon enrollment.
How do you work with clients online?
We work with clients from around the world virtually. Online coaching is both convenient and flexible so that you can receive support around the clock and workout on your own schedule. We communicate via email, private members-only Facebook group and live coaching on Zoom.
What if I can't make it to the live coaching calls?
While we encourage you to be present for each call in order to get the most results from the program, we know life gets busy and circumstances come up that can prevent you from attending the weekly live calls.
The two calls are:
"Master Your Mind" with Master Coach, Amanda
"Nourish" with Registered Dietitian, Dana
You will also have a monthly live coaching call with Krista Ferrara, the owner of The Wellness Collective.
All calls will be recorded and uploaded to your priate members-only Facebook group where you can watch the replay at your leisure.
Will I receive 1:1 support?
This is not an offer for 1:1 coaching, but you'll get intimate support from 3 expert coaches in a group format! Plus, you will also have the option to book a 1:1 call as needed with one of our coaches for an additional fee.
For all other 1:1 coaching inquiries, please email support@fitbodybykrista.com
Is Keri still involved in The Wellness Collective?
YES! While Keri Ford has sold TWC to Krista Ferrara, she is an active mentor, business partner and guest speaker.
You will also have access to 24 modules of self-study content where you can experience Keri's coaching, videos, meditations and more.
Is this program tax deductible?
If you are a business owner, the answer in most cases is YES. The investment in this personal development and wellness coaching program are likely tax-deductible for you, but we suggest that you confirm with your tax advisor.
Can I finance the program?
Yes, we offer financing option that will be open at the time of enrollment. 
Why should I join?
Intuitive Eating changed Keri's life, and we think that harnessing the power of your intuition will change yours, too.
We also believe in creating safe spaces for women to grow in community for collaboration and learning. We bring in 3 different types of experts, each with a unique focus and speciality. We'll also continue to check in to offer ongoing advice and accountability toward your goals. Plus, you'll expand your network and meet other women looking to make lifelong friendships.
"I had struggled for many years with the viscious cycle of dieting.
So far I am down 13 pounds and I have so much more energy!
My outlook on life is better than it's ever been, AND I finally have food freedom – which I wasn
't sure it would ever happen.
I owe it all to Keri and I'm so thankful!"
– Allison K.
"I had the privilege of working with Keri during two of the biggest transitions of my life: my wedding and during my first pregnancy.
In terms of results, I've lost nearly 5" inches and 14 pounds since being cleared for exercise, while still being able to maintain a healthy milk supply to continue to breastfeed my baby.
For the first time in my adult life, I finally understand food."
– Karen A.
"I wasn't sure that I was ready for a group coaching situation… but I decided to give it a shot and the amount of growth that I experienced in the group might even be more than what I experienced in the 1:1.
I am stronger. I have more energy. I am happier. I have a better relationship with my husband. I'm a better mother.
And chances are, if you're here watching this and you're trying to decide if this is the place for you, if this is the right move… it is."
– Hannah K.
(*TWC previously referred to as Embody)
"If you're thinking it's just going to be "eat this", "do these many sit-ups" is literally the farthest thing from that.
You will take such a deep look into every aspect of your life; your career, your relationships… and of course your mindset and your relationship with food with exercise.
Keri brings such a wonderful group of women together to go through this journey together, and to learn, grow and support each other was such a beautiful and empowering thing.
I'm so thankful for  every woman in this group.
And, I would just say if you were considering joining this program, do it because what you will get out of it is much more what you will expect."
– Audrey S.
(*TWC previously referred to as Embody)
success with angelique macarthur
"I leveled up into the version of myself that I wanted to become."
What can I say but what a truly transformational program! When Keri shared this opportunity with me I was in a space in my life of practicing ways to level up into the version of myself that I wanted to become. I didn't take my health journey as seriously as I should of and I jumped at the chance to work on this area of my life and I'm SO thankful God brought this to my doorstep.
The Wellness Collective program turned out to be the catalyst for deep change in several areas of my life. I came into the program expecting to find a solution to losing weight and getting healthy but found a way to live my WHOLE life free from the shackles of limiting beliefs and living by my past. As a result, I've been able to improve the way I view and interact with food and my body and build confidence on a MASSIVE scale. I struggled with my sleep and energy as well as staying stuck in patterns and routines in my life that weren't serving me.
One of the biggest blessings from this program is the friendships I've formed with women who were open to connecting on a deeper level. The support is unreal in this group! Also, the deep journalling and inner work has proven to be exactly what I needed to step into the person God has always wanted me to be.
I'm beyond grateful to Keri and the whole Elevate family! This experience has allowed me to eliminate my negative thinking and grow my awareness around my feelings and thoughts and given me the calm knowing that comes from being an action taker (because confusion and procrastination were my middle names!). I am loving my body, my confidence and being the person I was destined to be. Working with Keri and her team has been one of the absolute delights of my life and I don't say that lightly. She cares for you, offers honest advice with grace and stops you from shrinking back and all with real knowledge and love.
Don't pass this up because you didn't come across this by accident. It's YOUR time to thrive!
Angelique M.
Lifestyle and Relationship Coach for Millennial Women
Ontario, Canada
for the Wellness collective…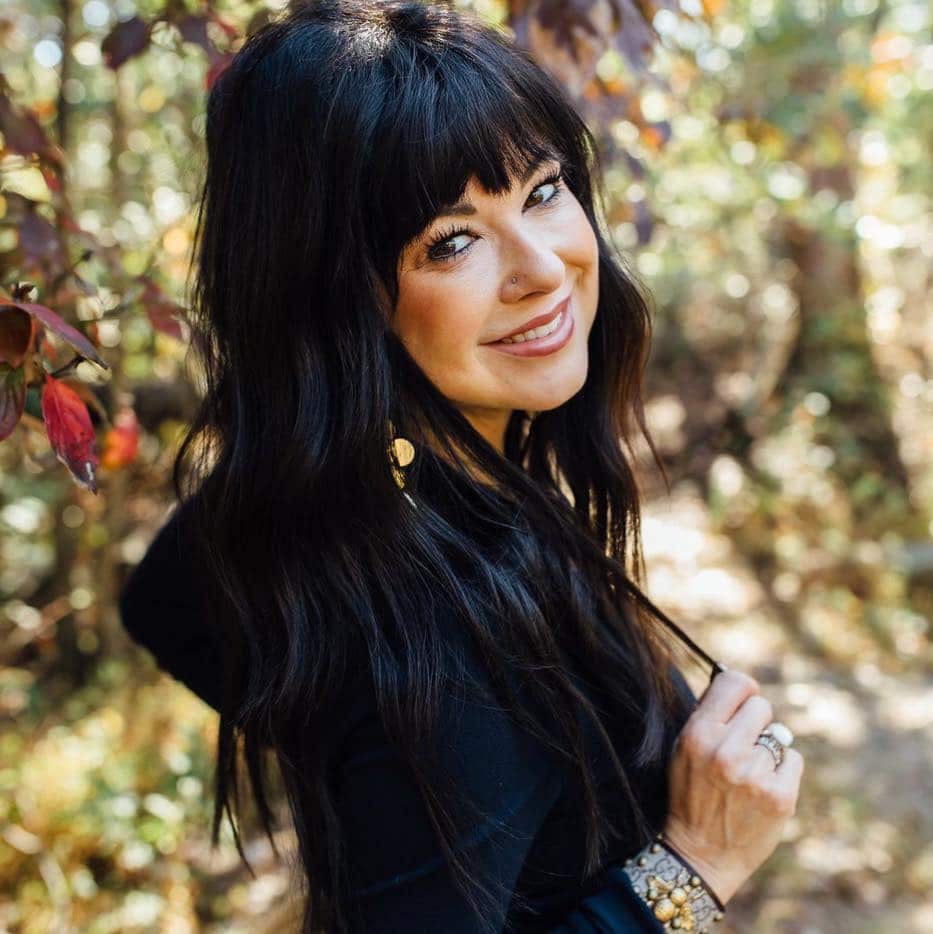 "I can't thank you enough. You're a kick ass trainer and have a heart of gold....you're the BEST!!! ♥️♥️♥️"
Heather H.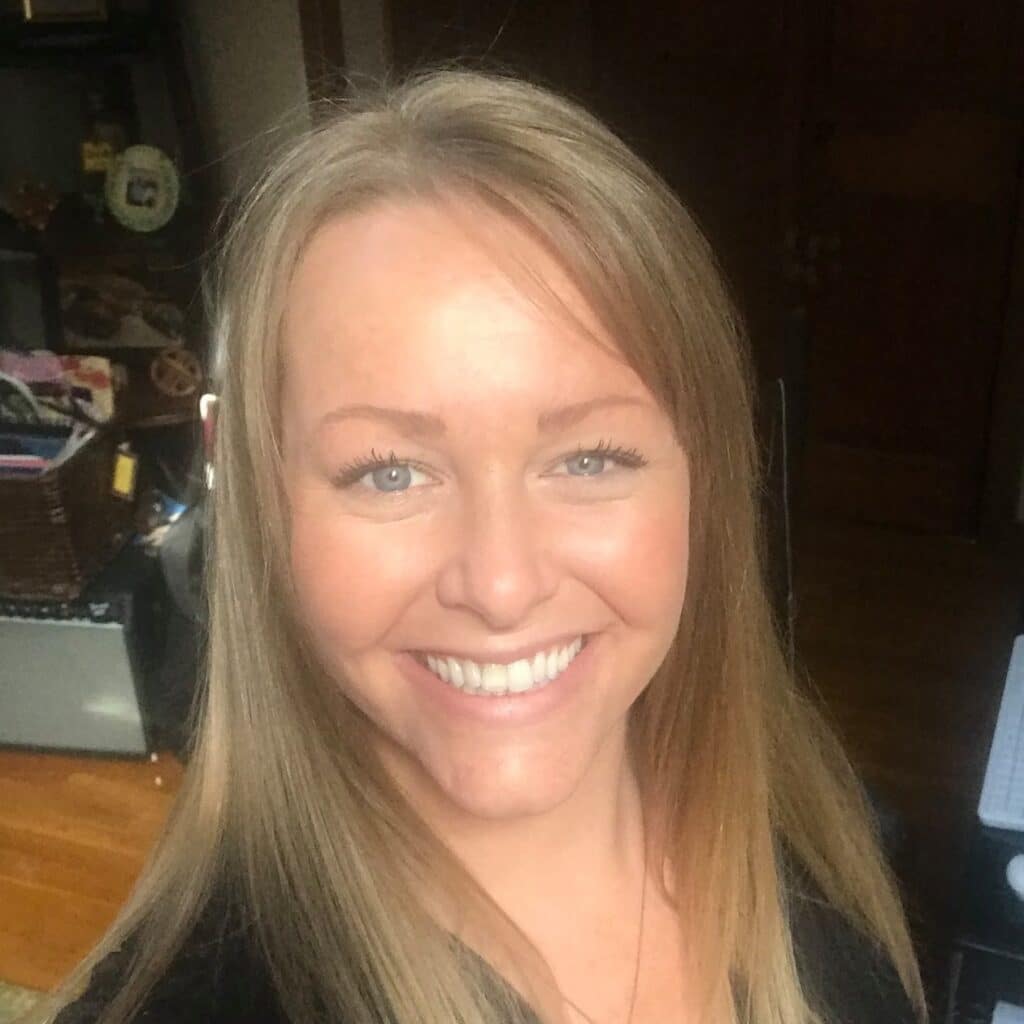 "Thank God for my coach and my group of amazing and supportive women ... just the refresher I needed to reset!"
Krista M.
Realtor and Property Manager
Montclair, NJ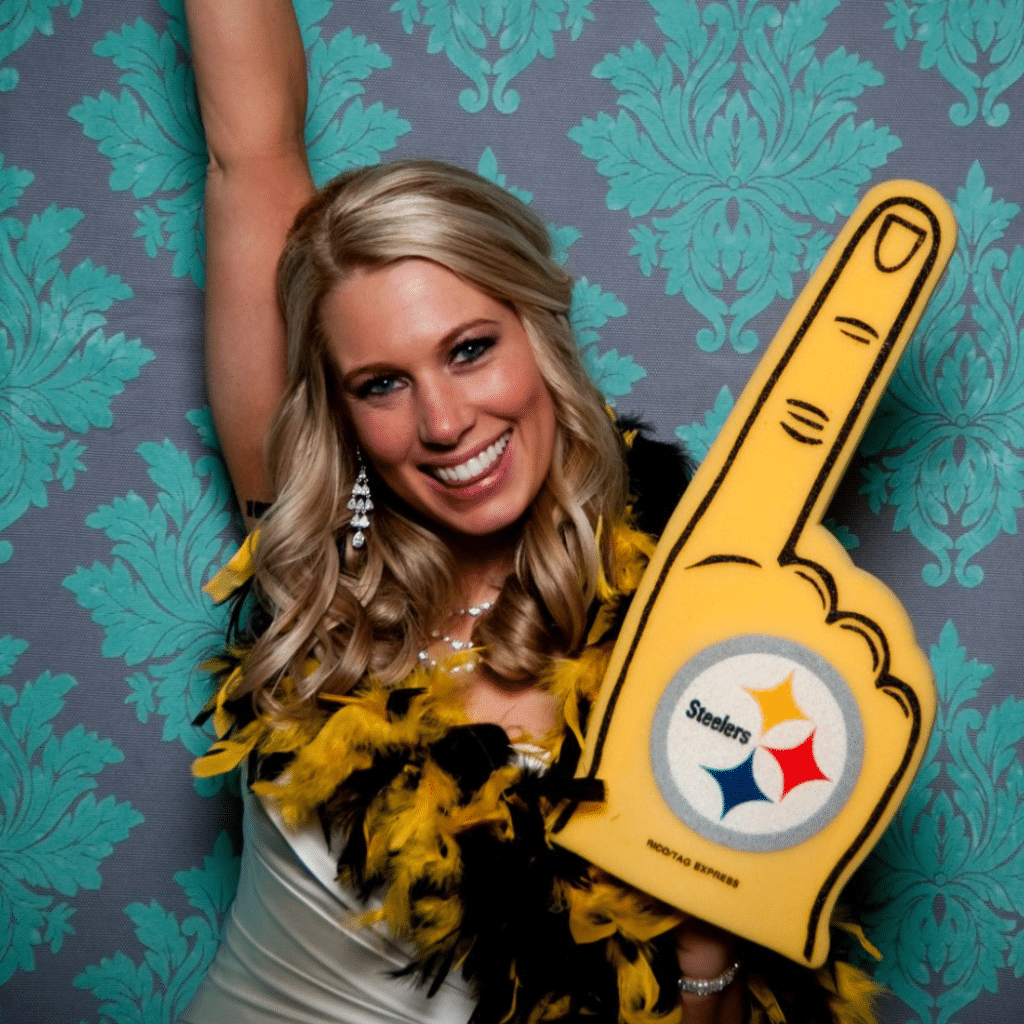 "The Wellness Collective has challenged me to dig deep into emotions that I did not know were there, to transform from the inside"
Courtney R.
Stay at home Mom
Lewisburg, PA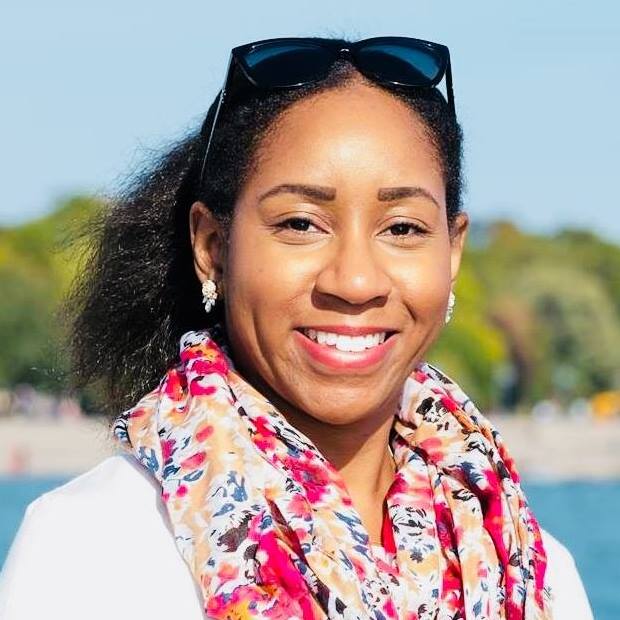 "Working with Keri has been one of the absolute delights of my life and I don't say that lightly"
Angelique M.
Lifestyle and Relationship Coach