MEMBERSHIP
Weekly Meditations

Meditations to Upgrade Your Mind
MEMBERSHIP
Weekly Meditations
Are you really rich in life if you're only wealthy in part of it?
I believe a truly rich life is fulfilling and aligned.
You deserve to have it all.
In 25 minutes or less daily, you will upgrade your subconscious mind and create even more abundance from a place of peace and power.
When you join, you'll receive access to my ENTIRE library of life-changing meditations, plus new meditations every week!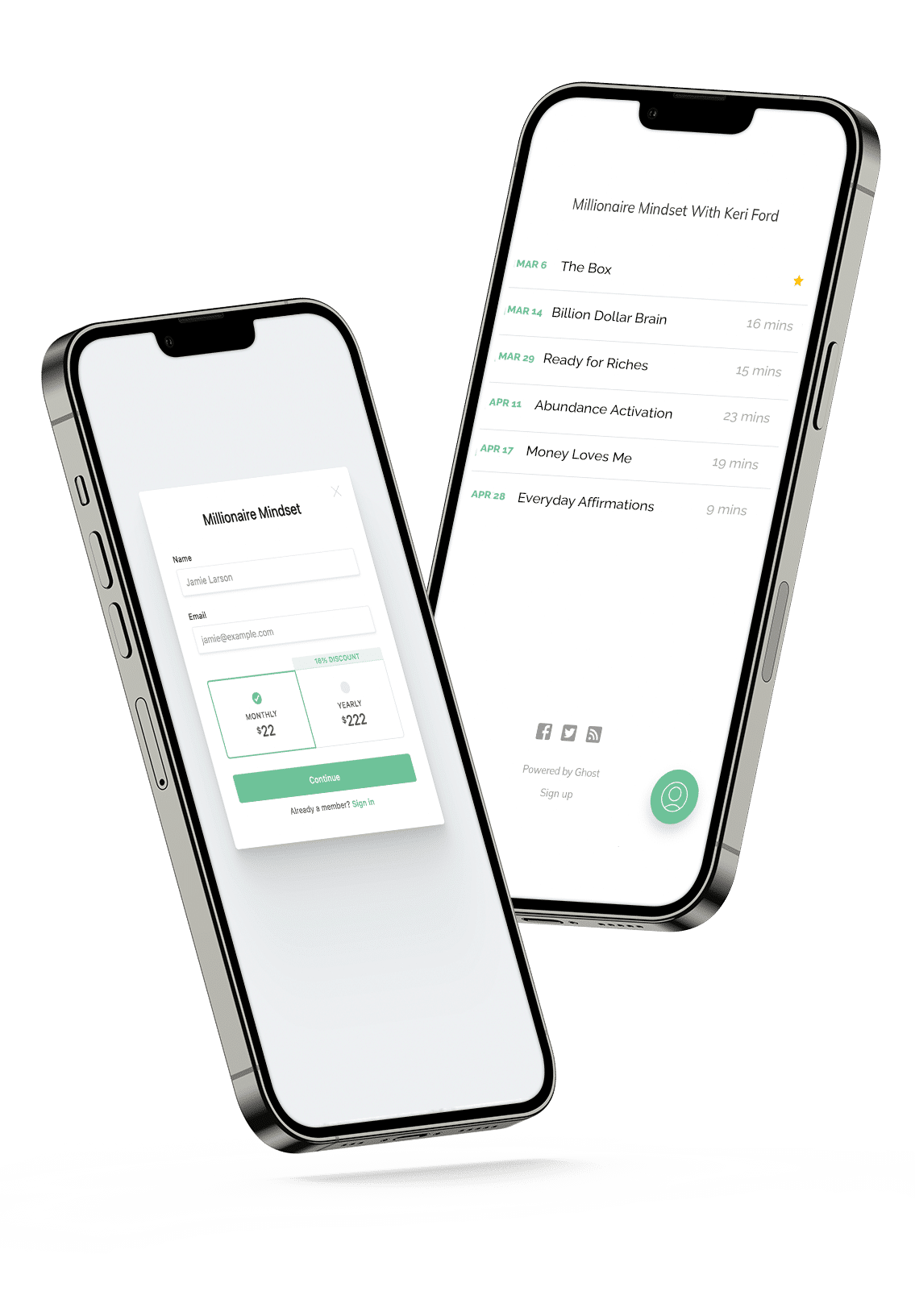 Meditation is one of the most powerful Somatic Success™ Strategies I have ever used in life & business.
Meditation has taught me TWO crucial things:
How to lift the veil of anxiety to sit in stillness
How to actually hear, and know, MYSELF
In fact, one of my favorite quotes speaks to this perfectly.
It says that "Prayer is talking to God. Meditation is listening."
As I began to practice sitting in meditation nearly daily, I realized how powerful my visions were.
When I started believing they were TRUTH, they started to become TRUE.
As I began to expand my repertoire of Somatic Success™ Strategies, this was one I have continually used in my own every day life, and in the coaching I provide to my clients.
My clients who previously felt disconnected from their body suddenly "had answers" for next level solutions… like my client who created an entirely new revenue stream in a matter of days that hit $90k the first month.
My clients manifested more money and more opportunities out of nowhere… like my client who stayed close to her vision of the company rewriting the company policy for her to pay her commission while on maternity leave – and they did it!
My clients who felt overwhelmed and ready to burn it all down quickly shifted into clarity and purpose… like my client who had staffing challenges at her brick-and-morter only to have 6 new applicants (and 4 returning employees) within THREE days.
I have SO many other client success stories just like these…
Because when they have the right Somatic Success™ Strategy in place, my clients always know the exact steps they need to take simply by unlocking this new level within themselves.
This is where most programs miss the mark and WHY I created the Millionaire Mind$et Meditation program.
Strategy without somatics is just more DOING.
Somatics without strategy is just BEING.
When we bring these two seemingly separate concepts together we create absolute magic.
I believe that every woman who is seeking the same stillness I was able to find, will be able to create whatever she desires…
And we will do it in 3 different ways:
Stop doing so you can start listening.
Expand your somatic capacity to have and keep more.
Master your mind and your reality.
My soothing voice will guide you into elevated states of consciousness, aligned vision, and stillness in the body.
When you join me inside the Millionaire Mind$et, it's going to be just like having me in your ear to personally coach you.
Ready to upgrade your mind?
– Keri
When you join you'll receive access to my ENTIRE meditation library, plus new recordings weekly!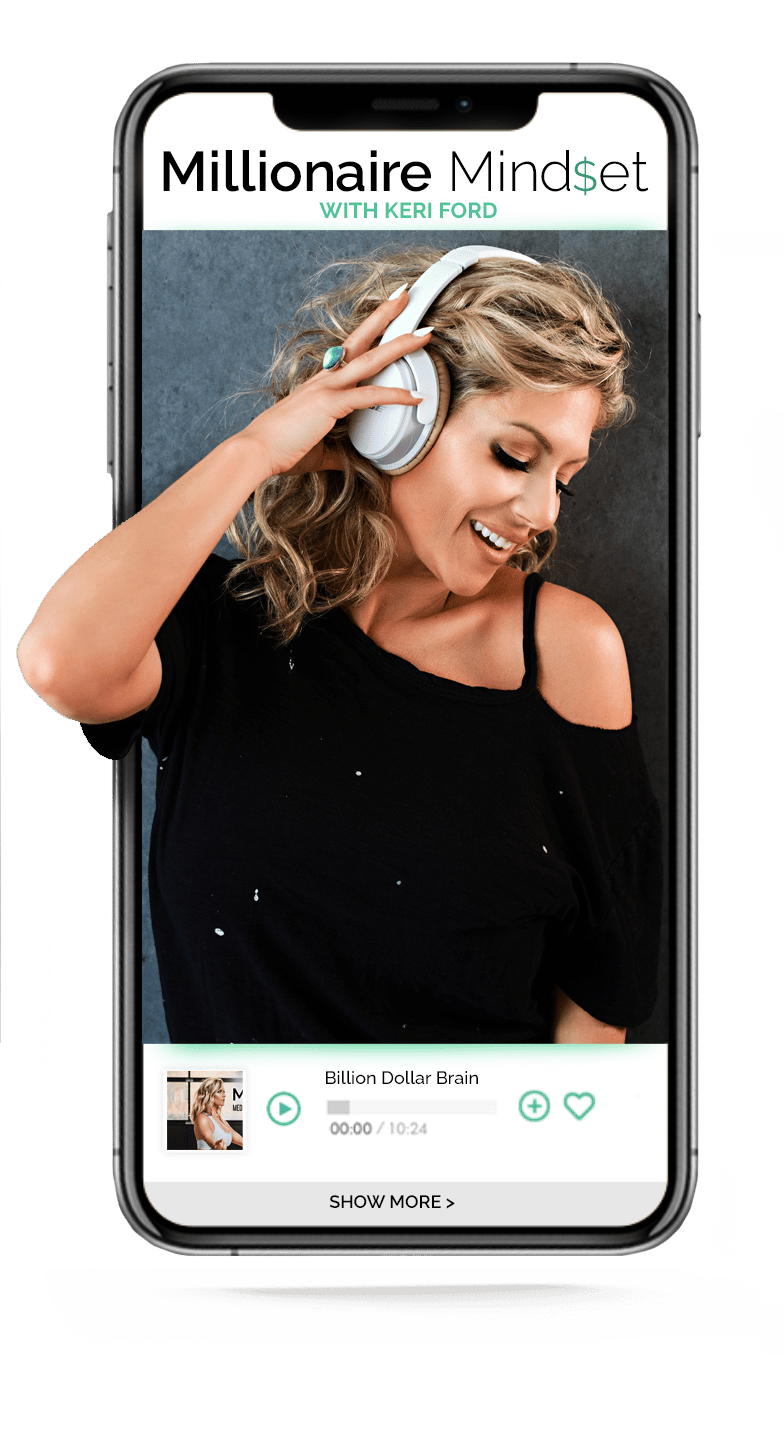 "Thoughts become things. If you see it in your mind, you will hold it in your 
hand."
Did you know that more than 14% of adults in the US have tried meditation at least once?
Meditation has been proven to change your brain and improve your memory.
It has also been shown to:
• Slow down the aging process
• Reduce anxiety 
• Boost your immune system
So I think it's fair to say… we're on to something.
(And that our thoughts are important.)
Members Inside the Millionaire Mind$et!
When you join, you'll receive the meditations below, plus 
brand new meditations

each week!
Daily Wealth Affirmations

Abundance Activation

Ready for Richness

My Wealthiest Self

Relax Into Richness

11-Minute Guided Power Meditation

Expanding Your Wealth Consciousness

5 Year Possibilities

Clear the Way to Receive More

How to Stay Present

Proof Your Thoughts Matter

13 Minutes to Having Everything You've Ever 

Dreamed Of

Claiming The Empowered Woman

Your Dreams Are Not Too Big
The Practice Of Holding More

Reclaiming Your Power

15-Minute Morning Meditation To Reduce Anxiety

Guided Meditation To Attract Abundance

Guided Meditation For Positive Possibility and 

Productivity

Guided Affirmations For Making Powerful 

Decisions

Affirmations To Create More Money

How To Unblock Your Blessings

13 Minutes To Connect To The Currency Of Energy

Connect To Your 10 Year Vision

The Mantra of Change Using Seed Sounds

Release Negative Energy and Increase Peace

Getting Exactly What You Want

17 Affirmations For Fulfillment and Wealth



….& NEW Meditations Recorded WEEKLY!
All sales final. No refunds.
See What MMM Students Are Saying!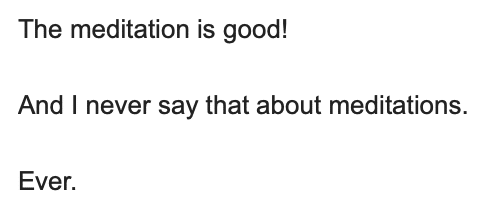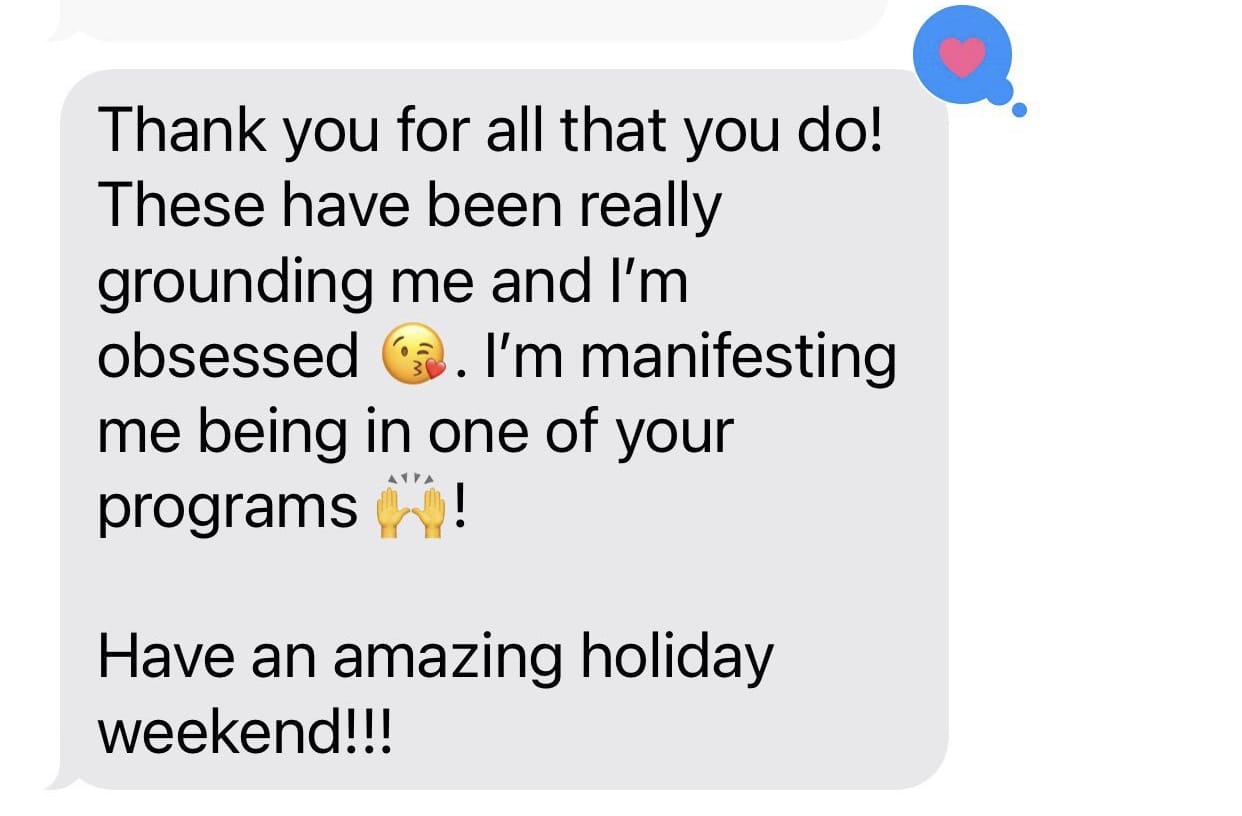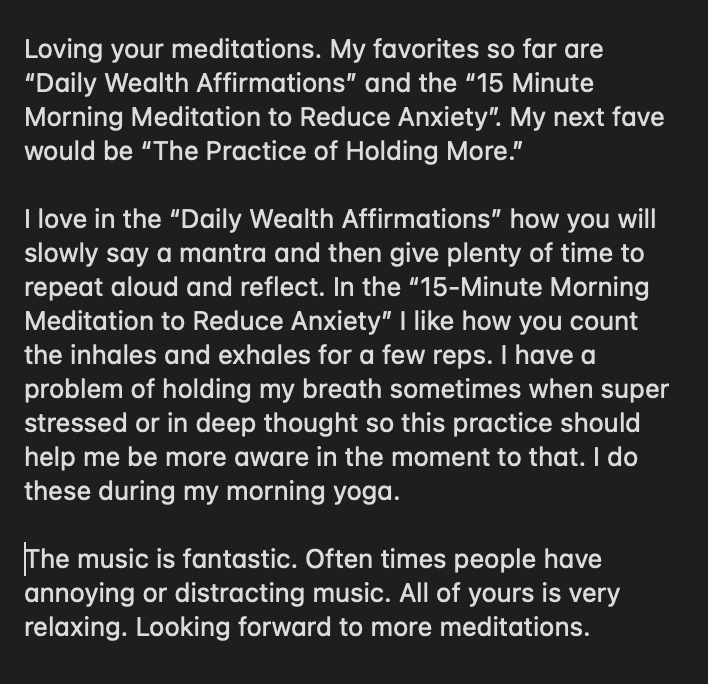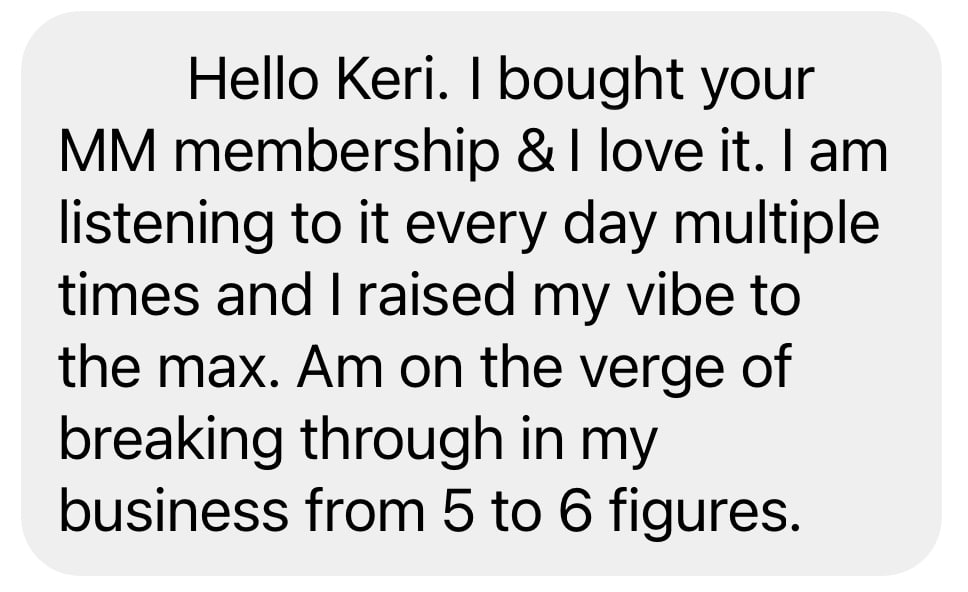 Can I listen to a meditation before I join?
Do you offer a monthly plan?
No. When we initially did split testing (monthly vs annual payments) we found that the students who experienced the most benefits were the students who used the meditations more frequently. These were also the students who were more likely to use the meditations knowing they had committed to the annual plan. The best way to offer you a higher level of accountability is to invite you to go ALL IN. 
Why are the meditations 25 minutes or less?
We would rather help you create, and sustain, a successful daily meditation practice for you through frequency (number of times you meditate per week) over length of time (how long you meditate per session). Learning how to take time for yourself each day requires repetition, as does the practice of learning to listen and observe your thoughts rather than getting velcroed into the noise of the mind.
Do you offer an affiliate program?
Yes! Thank you so much for sharing our programs so we can help create a better world together. You'll receive 50% commission ($111!) for each new student that signs up. To join and receive your affiliate graphics, please email hello@elevatewithkeri.com
Help! I'm having trouble logging in.
For all technical questions and customer support, please email hello@elevatewithkeri.com and we would be happy to help you out.