MEMBERSHIP
Weekly Meditations

Meditations to Upgrade Your Mind
MEMBERSHIP
Weekly Meditations
The Meditation Program Designed to Recalibrate Your Mind + Body to Receive MORE.
In 25 minutes or less daily, you will upgrade your subconscious mind and practice feeling into the energy of even more wealth and vision.
When you join, you'll receive access to my ENTIRE library of life-changing meditations, plus new meditations every week!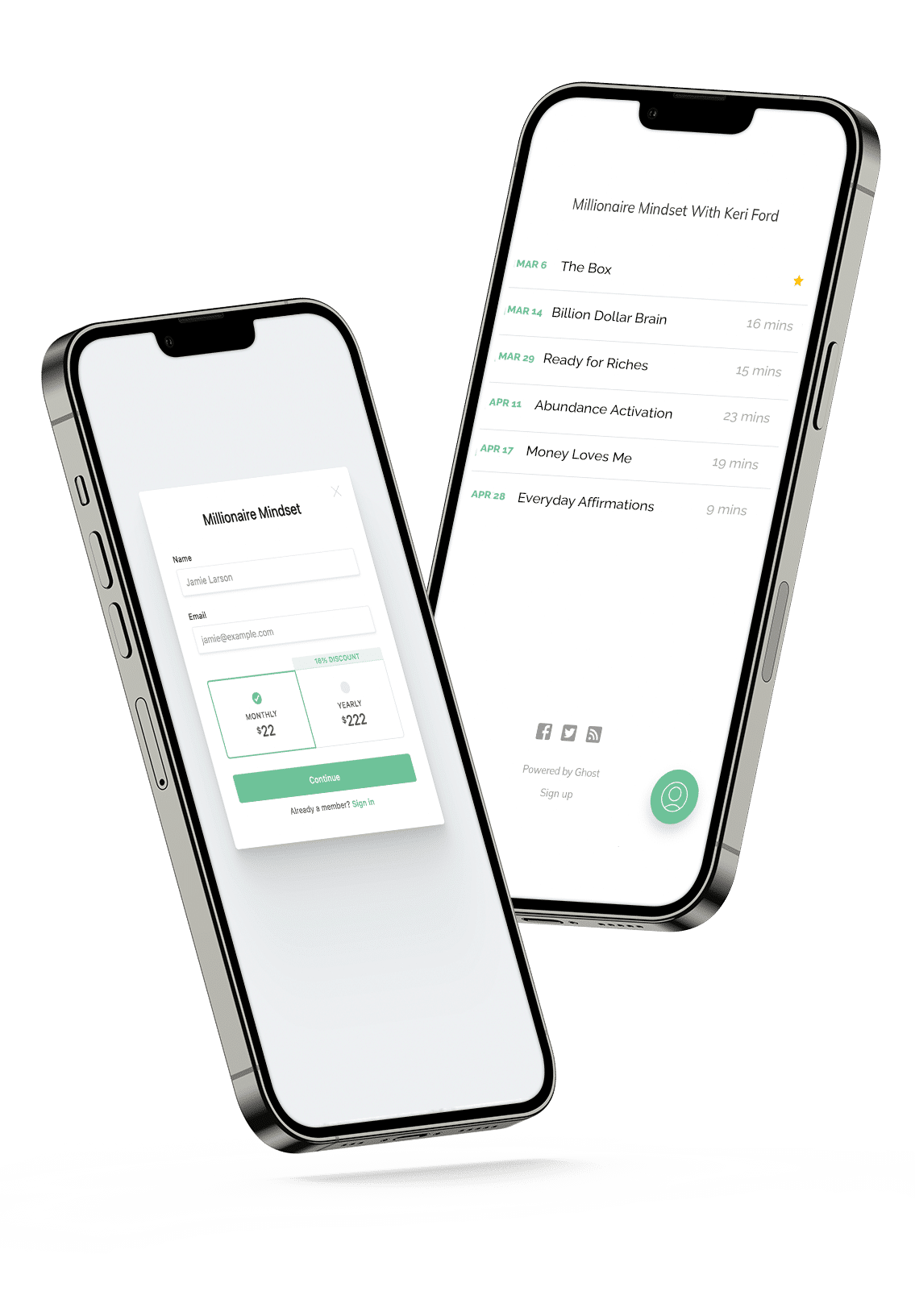 Meditation changed my life.
Rewiring my subconscious beliefs is the #1 thing that has helped me experience quantum leaps in success.
I realized how powerful my visions were when I started believing they were Truth.
The perceived challenge was FEELING this in my body by creating new evidence every time I expanded beyond my previous level of calibration.
As my audience has continued to grow…
I realized that I wanted to provide an offering that is available to more world changers –
even if they are just starting to taste what is possible.
For women that are seeking the same guidance and inspiration I was able to find…
And how to find it within yourself by doing this ONE thing.
This is why I created the Millionaire Mind$et Meditation Membership.
It's going to be just like having me in your ear to personally coach you into elevated states of consciousness.
My goal is to increase your energetic capacity to hold and receive more abundance… even faster.
Ready to be rich?
– Keri
When you join you'll receive access to my ENTIRE meditation library, plus new recordings weekly!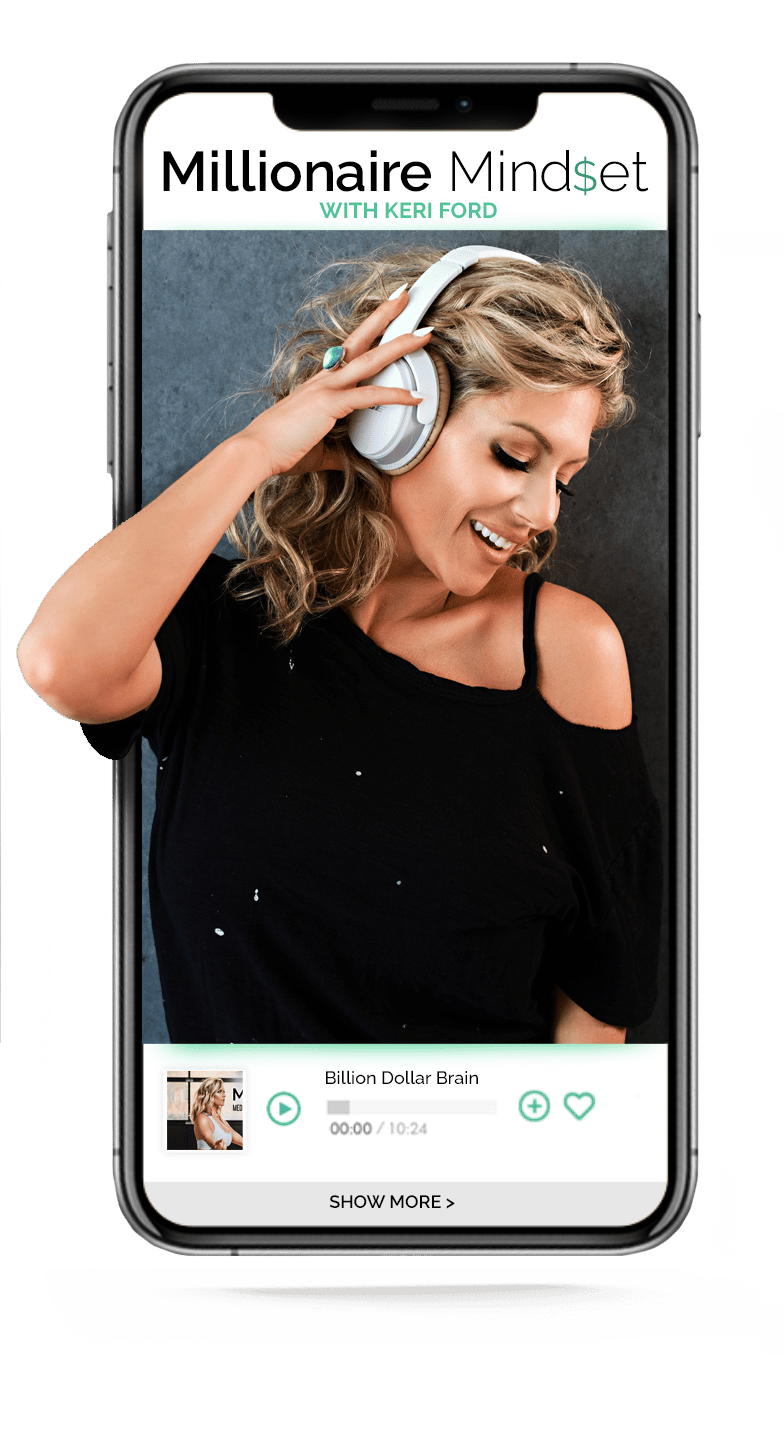 "Thoughts become things. If you see it in your mind, you will hold it in your 
hand."
Did you know that more than 14% of adults in the US have tried meditation at least once?
Meditation has been proven to change your brain and improve your memory.
It has also been shown to:
• Slow down the aging process
• Reduce anxiety  
• Boost your immune system
So I think it's fair to say… we're on to something.
(And that our thoughts are important.)
Members Inside the Millionaire Mind$et!
When you join, you'll receive 
brand new meditations

every single week!
It's just like having me in your ear to personally coach you into elevated states of consciousness with an increased energetic capacity to hold more abundance even faster because of your ability to receive.
Your ability to receive is directly correlated to the level of self-worth.
But when you remember, and trust, that you were born worthy, more of the good stuff comes your way.
More Money.

More Love.

More Miracles.
On some level you probably KNOW that you are destined to make millions.
You ARE the wealthy woman.

You ARE rich in life purpose.

You KNOW it's time to let your holy vision love you.
All sales final. No refunds.
See What MMM Students Are Saying!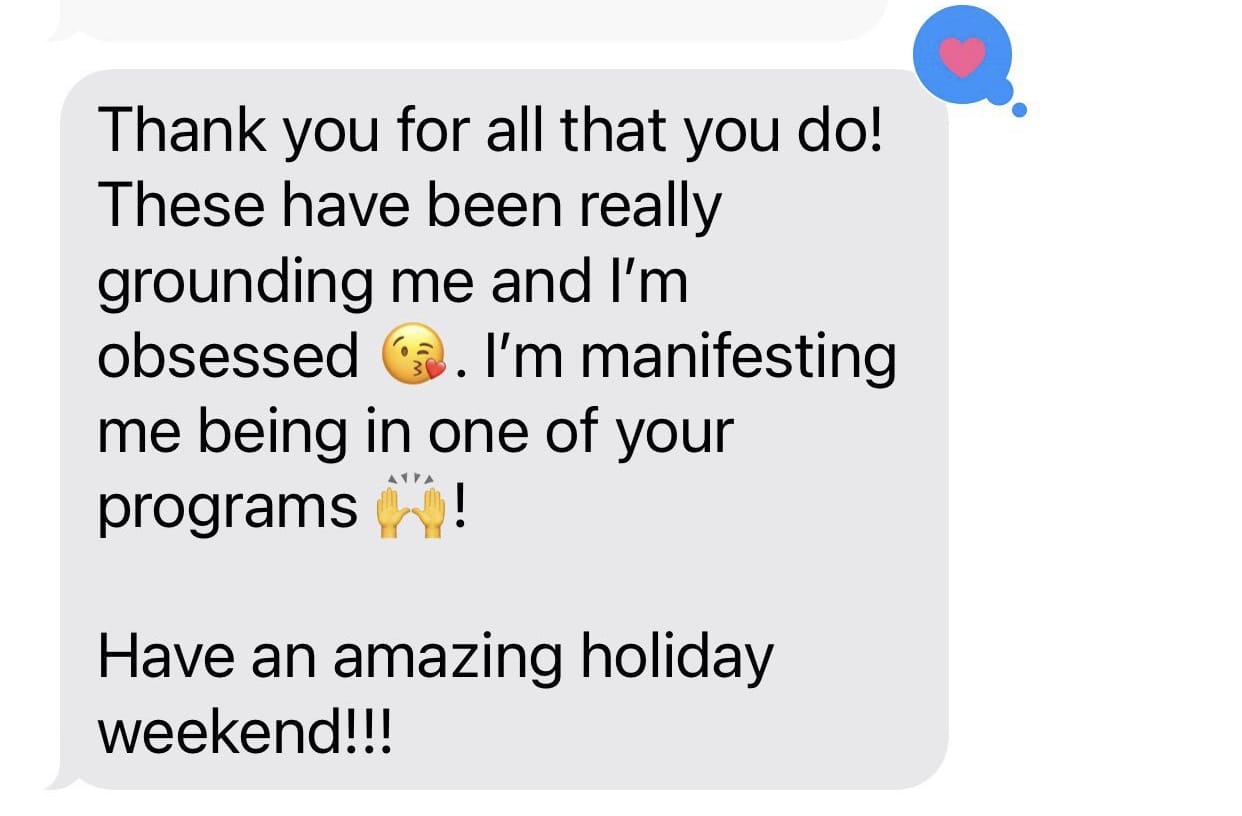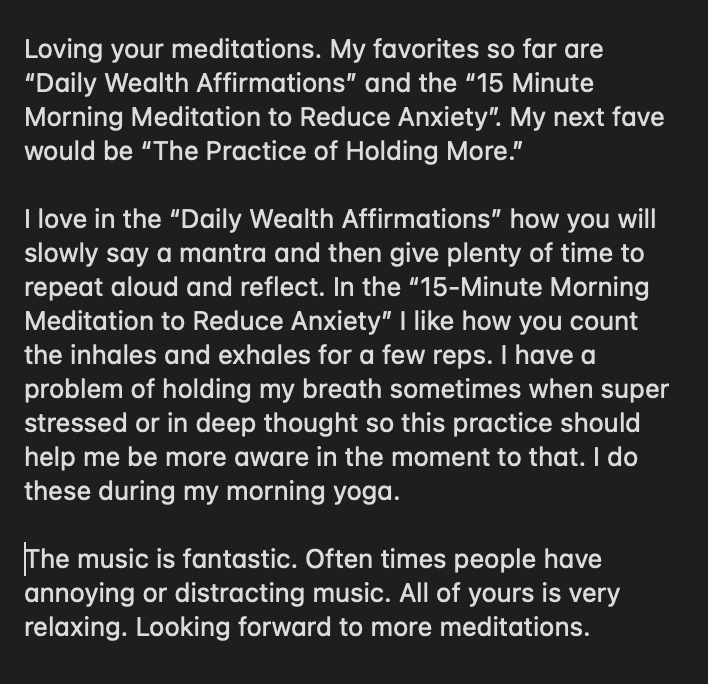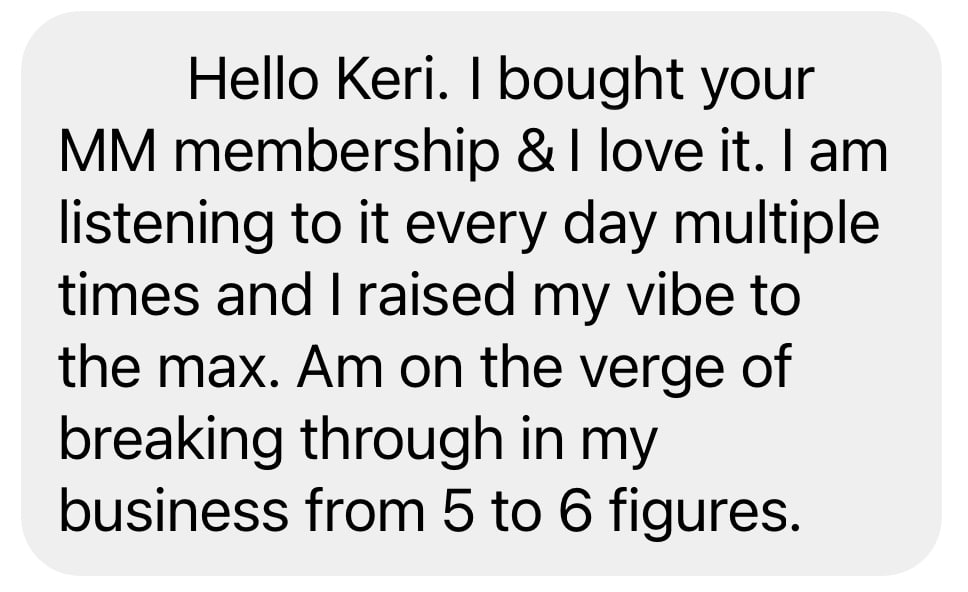 Can I listen to a meditation before I join?
Do you offer a monthly plan?
No. When we initially did split testing (monthly vs annual payments) we found that the students who experienced the most benefits were the students who used the meditations more frequently. These were also the students who were more likely to use the meditations knowing they had committed to the annual plan. The best way to offer you a higher level of accountability is to invite you to go ALL IN. 
Why are the meditations 25 minutes or less?
We would rather help you create, and sustain, a successful daily meditation practice for you through frequency (number of times you meditate per week) over length of time (how long you meditate per session). Learning how to take time for yourself each day requires repetition, as does the practice of learning to listen and observe your thoughts rather than getting velcroed into the noise of the mind.
Do you offer an affiliate program?
Yes! Thank you so much for sharing our programs so we can help create a better, more abundant world together. You'll receive 50% commission ($111!) for each new student that signs up using your link. You can also log in and view your dashboard, payout cycle and earned cash-to-date at any time. To join, gain access to affiliate graphics and links please email hello@elevatewithkeri.com
Help! I'm having trouble logging in.
For all technical questions and customer support, please email hello@elevatewithkeri.com and we would be happy to help you out.